---
August 9, 2021
Adventures in the Great SEC Outdoors
By: SEC Staff
SECU (Twitter: @TheSECU)
The beautiful thing about the great outdoors is that you can come as you are. You don't need an organized event or a big group to appreciate the majesty of nature. All you need is a positive mental attitude and a spirit for adventure.
If you're a student at an SEC school or a resident of an SEC town, you're in luck, because there's an abundance of natural splendor all across the region. From the shores of the Atlantic Ocean to the peaks of the Ozark Mountains, there's so much to explore and enjoy.
You can't go wrong with any of the major landmarks, but here are our favorite outdoor destinations in every SEC state.
Note: Many locations have modified their hours and/or services due to COVID-19. Before you plan your trip, please check with the location to make sure they'll be open when you'd like to visit.
When you've got a state park on the Gulf of Mexico, you've got the best of both worlds. There's kayaking, canoeing, and fishing along the coastal waterways, miles of hiking and biking along the Backcountry Trail, and educational opportunities galore at the Nature Center and butterfly garden. Oh, and did we mention camping under the stars and falling asleep to the sounds of the ocean?
Image Courtesy of Arkansas Outside
An excursion into the Ozark Mountains is a must for any Fayetteville local, and with 17 cabins and 135 campsites, Devil's Den is ideal for a weekend among the trees. Marvel at the unique rock formations and caverns, relax in a boat on Lake Devil, or hit the trails through the Ozark National Forest with a backpack, a mountain bike, or even a horse.
The fourth-largest lake in the state of Florida is an invaluable resource for wildlife enthusiasts. The one-way, 11-mile Lake Apopka Wildlife Drive is an incredible tour of the area, complete with bobcats, alligators, many beautiful birds, and much more. If you prefer to leave your vehicle and get some fresh air, the 15-mile Lake Apopka Loop Trail features excellent hiking and biking.
Image Courtesy of Atlanta Trails
There's a reason they call it "Georgia's Little Grand Canyon." The massive gullies of Providence Canyon reach as deep as 150 feet, and the soil beneath your feet is a beautiful mix of pink, purple, orange, and red hues. Spend the day traversing the 10 miles of hiking trails then spend the night in one of their beautiful cabins. Or if you're short on time, pull over and have a picnic with a view.
Image Courtesy of Georgetown/Scott County Tourism
UK students don't have to go far to enjoy a unique outdoor experience, especially if they're equine enthusiasts. Start with a walk through the Hall of Champions, then explore the park grounds to see a collection of statues and memorials for some of the greatest racehorses to ever run the tracks. And if you're up for it, saddle up and traverse the Horseback Ride Trail through the countryside.
Image Courtesy of Honey Island Swamp Tours
Louisiana is known for its swamplands, and the Honey Island Swamp is perfect for a guided tour. You'll enjoy plenty of photo opportunities with the local wildlife like owls, egrets, hogs, beavers, and of course, alligators. And as an added bonus, your tour guides will educate you on the ecology and geography of South Louisiana. They'll even pick you up and drop you off at your hotel!
Image Courtesy of Visit Natchez
For the past 30 years, the St. Catherine Creek National Wildlife Refuge has been a protected habitat of nearly 25,000 acres for countless species of flora and fauna. This area isn't open for tourist activities, but if you want to have an unbeatable outdoor experience, the Refuge is supported by hundreds of volunteers. There's even a couple RV campsites for volunteers staying a while.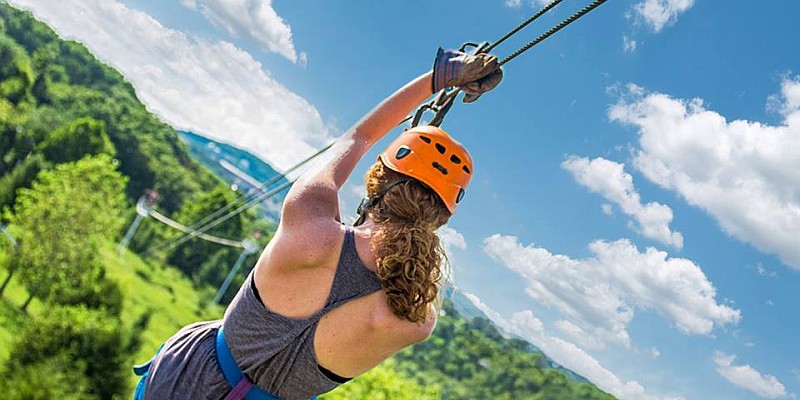 Image Courtesy of The Travel Office
If you're looking for an adrenaline rush in the summer sunshine, Wolfe Mountain is the place to be. The main attraction is their expansive collection of ziplining courses, which features a total of eight ziplines over the course of three hours on the premium Canopy Adventure package. If you'd rather keep your feet on the soil, the leisurely Wolfe Mountain Walking Tour is just the thing.
Can't decide between the beach or the woods? If you're in South Carolina, you won't have to, because the Myrtle Beach State Park is nestled up against an oceanfront maritime forest, making this one of the greenest shorelines you'll find anywhere. That means it's perfect for fishing, camping, picnicking, hiking, and maximum relaxation. Be on the lookout for sea turtles as well!
Wonder why they call them the "Great" Smoky Mountains? It won't take long to figure it out after a trip to Gatlinburg. The shopping is great, but if you'd rather bypass the touristy areas, you've got lots of options. Book a whitewater rafting trip down the Big Pigeon River (featuring class-III and -IV rapids), pack your rod and reel for a fly fishing trip, or experience the finest glamping setups under the stars.
Corpus Christi just happens to be home to the largest undeveloped barrier island in the world, featuring more than 130,000 acres of beaches, dunes, and grasslands. This diverse climate makes the Padre Island National Seashore perfect for a birdwatching tour, and the park rangers are always on hand to educate you on the native wildlife, including sea turtle hatchlings in the summer.