---
November 14, 2020
Fourteen on the 14th with Auburn Student Zac Young
By: SEC Staff
SECU (Twitter: @TheSECU)
You know the SEC. You know its 14 member universities, their school colors, chants, and slogans. But do you know the people? The faculty? The staff? The students? The administrators? Maybe you caught a glimpse of someone walking around campus and wondered, "Who's that?" You're curious, and you want more insight. More stories, more advice, and more favorites. Well, we have you covered.
Zac Young is a senior engineering major at Auburn University and the winner of the 2020 SEC Student Pitch Competition. The founder of Vulcan Line Tools, Young pitched his product and impressed the judges– conquering his nerves and joking about his Southern accent all the way to the finish line.
Keep reading to learn more about Zac; how he got his start in Auburn's entrepreneurship accelerator; what it means to win the first pitch competition he ever competed in; and why he bought a sewing machine to put in his office at Auburn.
1. How did you come up with the idea for Vulcan Line Tools?
My father has been in the electric utility industry his entire life, so I grew up around it, and I learned what he did with his company. As I got older, I became more interested, and he mentioned the software he sold wasn't being used to check that power lines were installed properly. So, I started brainstorming. The device I created measures sag, temperature, and tension in power lines to make sure they are installed properly – in around five seconds – rather than the standard 15-30 minutes.
2. How has Auburn supported you in your entrepreneurship journey?
I could talk for hours about how much this program has helped me. I'm ecstatic about what they've done. I have access to an office and some of the best mentors in the country. A month ago, I was running this company out of the back of a trailer with no contacts. I had a plan, but the accelerator has given me pitch opportunities and has connected me with people to move the company forward. Plus, it's been a great opportunity to network with the other students in the accelerator and get to know other people in similar positions. I really can't thank Auburn enough.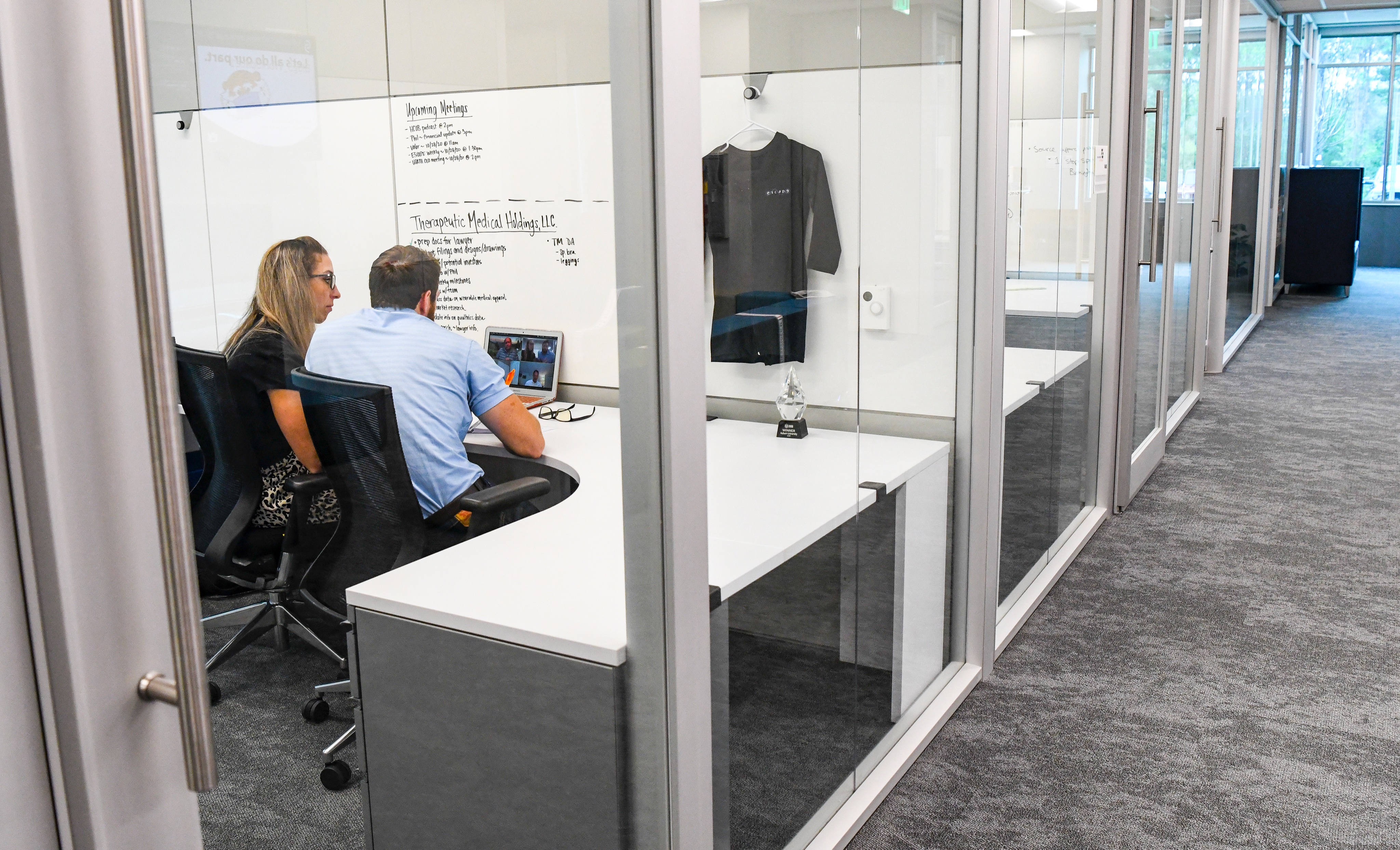 Auburn University's New Venture Accelerator (Image Courtesy of Auburn University)
3. What does it mean to you to win the SEC Student Pitch Competition?
I was so shocked. I went into the competition with zero expectations, and it says a lot about how much the people in the Auburn entrepreneurship program have been able to coach me. This win really was them getting me to the point where I could present my best pitch. The competition has helped me make connections, and it was a great experience! More than anything, I still can't believe people would listen to me talk about power lines for 10 minutes.
4. What's next for you and Vulcan Line Tools?
I'm at the tail end of testing and prototyping right now. I've got a few units being tested by Alabama Power and Georgia Power currently, and once we get the last bit of feedback, I'll take it from prototype to market. We're hoping for full-scale production to get the tool into the hands of the people who need it.
5. What is the best advice you've ever received?
The best advice I have ever received is from my father. Every time I'm nervous before something big like a meeting, date or competition, he always tells me to just go out there and be myself. I can't tell you how much this has helped me in life. I've found that people respect you so much more if you just be who you are, without trying to change yourself to please those around you.
6. Are you a morning or a night person?
I don't know if I'm one or the other, but I really enjoy duck hunting. I'm used to getting up at 3 in the morning to hop in the boat and enjoy time with my buddies. So I'd say I'm probably a morning person. Plus, when you get up in the morning, you feel like you can conquer the day.
7. How do you unwind?
Even if I'm not out duck hunting, I still enjoy being on the boat. When I'm stressed, I'll take it out to the lake by myself. I'll start up a speaker and listen to my favorite music – I'm a big fan of Sturgill Simpson, so that's really how I relax – outdoors and by myself.
8. How would your best friends describe you?
I don't know if I want my best friends to describe me because they'd probably try to embarrass me, but after they were done joking, I think they'd say I'm a great friend who is always there for them. They'd say I need a bit more of a filter, and that I'm a really genuine person who cares about everyone. The answer might depend too on if you ask my good friends or my best friends. My best friends would probably just make fun of my eyebrows.
9. Do you prefer a window or aisle seat?
Definitely window. I like being able to look out and see the clouds and whatever we're flying over. Usually, my mom is in the aisle seat when we're going places, so I've gotten used to the window.
10. Who's your biggest inspiration?
My parents. My dad is the coolest, and if I can be half the person he is, I'd be extremely content. He's helped me so much – given me such good advice, and he doesn't pressure me to do anything. My mom is my biggest supporter. She's always cheering me on and giving me financial and tax advice when I need it. The two of them really keep me going.
11. Do you have any hidden talents?
I enjoy making videos and short clips. I create clips of my friends for Instagram, and I think it'd be fun to do that on a larger scale at some point. I was on a podcast for Auburn a little while ago, and I enjoyed it a lot, so maybe that's something I could do in the future. I also bought a sewing machine for my office and taught myself to sew to make the straps for my product, so I guess I could say I'm aggressively average at sewing.
12. What's the best gift you've ever received?
When I turned 16, I got the family Jeep! It's a 1999, stick-shift, 2-door – TJ. I still think that's the only way Jeeps should be made. I love it! It's a little bit of a clunker now since I've had it for so long, but I still drive it. I do the Jeep wave too!
13. If I spend 24 hours in Auburn, where do I have to visit?
You've got to go to Byron's Smokehouse. It's not a hole in the wall, but it's like a '70s retro breakfast diner. It's one of those places that's packed every game day morning, but it's not necessarily a cliché place to visit. It's great!
Image Courtesy of Living and Local
14. Who would you ask 14 questions?
Dave Chappelle would be a really interesting person to ask questions. I think he'd be fun to talk to, and he's hilarious. I'd definitely want to ask why he quit comedy for so long and why he chose to come back. I'd also want to know about some of the Hollywood secrets – he has to have some stories or secrets.
We'll be back on December 14 with 14 more SEC questions and answers! Thanks for reading!