---
June 14, 2020
Fourteen on the 14th with Dr. Matthew Theriot
By: SEC Staff
SECU (Twitter: @TheSECU)
You know the SEC. You know its 14 member universities, their school colors, chants, and slogans. But do you know the people? The faculty? The staff? The students? The administrators? Maybe you caught a glimpse of someone on the sidelines of a game or in a campus building, and wondered, "Who's that?" You're curious, and you want more insight. More stories, more advice, and more favorites. Well, we have you covered.
Dr. Matthew Theriot is Associate Provost for Faculty Development and Strategic Initiatives at the University of Tennessee, and he was recently named chair of the SEC Academic Leadership Development Program (SEC ALDP).
Keep reading to learn more about Dr. Theriot; his role in the SEC ALDP; his father's watch; and why he always recognizes his staff in our June edition of Fourteen on the 14th.
1. How do you define leadership?
There are a couple of characteristics that are always critical for good leadership – kindness and empathy, and I hope those are pervasive for me as a leader. These are not optional. Every situation should be approached with an eye toward empathy. It's never failed me.
2. How does it feel to be leading the SEC ALDP?
I'm excited to have been appointed chair! The SEC Academic Leadership Development Program has been an important part of my SEC experience for a long time. I remember applying in 2009 to be a Fellow and not being selected by my university. I applied the next year and had a wonderful experience. This feels like I've come full circle.
3. Are you a morning or a night person?
A morning person — that's always been how I've worked. Even as a teenager, I was never one to sleep until noon and be dragged out of bed. Particularly when I was a new faculty member, I would often get up and work on my research projects at 2 or 3 in the morning when everything was quiet, and my mind was fresh. I would get to work having put in almost a full day before my wife and kids had woken up. I just like the calm to the world around me.
4. What is your philosophy toward life and work?
I don't believe in the idea of work/life balance. I was introduced to the concept of work/life harmony, and that really resonates with me. Work/life balance implies a level of give and take, whereas harmony is about finding the rhythm of the routine that works for you. I think I have a good harmony that gives me the freedom and flexibility to keep me from feeling like I'm sacrificing work for personal life or personal life for work.
 5. What does family mean to you?
Family is everything to me. These are the people I want to be with all the time, who I would make great sacrifices for. But I also think of the people I work with as being a family in a different way. It may not be the same deep love and affection that I have for my wife and children, but it's still a willingness to make sacrifices and wanting to help them be successful. I wouldn't lose sleep over working with them if I didn't truly value them and have deep admiration for the work they do.
6. What keeps you up at night?
I have the privilege of leading a unit at UT, TLI, that has a really good staff. (Editor's Note: Teaching and Learning Innovation is the university's home for faculty and leadership development as well as online and e-learning program development.) I'm kept up at night when I feel like I'm not able to provide the resources they need – like budgets. I sometimes say my job is to sit in the back of the bus and make sure we have gas money to go where they want to go. If I feel like I'm not contributing the gas money to help with the work they do, that keeps me up at night.
7. How would your best friend describe you?
I think witty, thoughtful, and creative. My best friend is my wife, so I'm also going to say that she'd say sexy. I think she would get to that descriptor eventually. I think … I hope.
8. What's your favorite book or artist?
It's not an artist or anything, but music in general. In my house, my family and I listen to music all the time, and we go to concerts together. That's a big part of what makes us happy. I enjoy all kinds of music, but I'm very much a Rock and Roll guy – classic rock, hard rock, southern rock, whatever. Eighties hair metal is also a guilty pleasure.
Image Courtesy of Rolling Stone 
9. How do you unwind?
Certainly, family time. We have a nice backyard, so when the weather is nice, we're outside talking, grilling, listening to music, and enjoying time together in the sunshine. We also have a couple of dogs who love to play fetch. It's about stepping away from computers and phones and screens to be with the family.
10. Who is your biggest inspiration?
My father. He passed away several years ago, and as I've gotten older, I find myself reflecting on his influence on me and the lessons I learned from him. He worked his way up in a company and had some management duties later in his career, and I think back to the times I would see him talking to his staff members. He really exemplified some of the things that I now find so important in leadership – sincerity, genuineness, knowing your employees – their spouses, their hobbies. I've come to realize how profound that can be.
11. What is the best gift you ever received?
The best gift I've ever received came from my father. I inherited his watch when he passed. It is a nice watch he bought for himself later in his career as a treat that he felt he'd earned. I have it, and I take care of it, but I rarely ever wear it. It's aspirational for me. In my mind, I haven't earned it in the same way he did. I aspire to be at a place in my career where I feel like I've earned it as he did.
12. What is your favorite quote?
When I moved into my first leadership position in higher ed, my predecessor left three things in the desk drawers. A hair comb – that I threw out; the biggest bottle of Advil I'd ever seen; and an unsharpened pencil that said, "Recognition. Make it a Point." I still have the pencil. I keep it on my desk as a reminder to recognize the people around me.
13. If I spend 24 hours in Knoxville, where do I have to visit?
You want to get lunch at Gus' Good Time Deli next to campus. It's classic Knoxville. If it's a nice spring day, you want to walk around Market Square downtown, and listen to music and drink a local beer. If it's a nice fall day, I highly recommend a drive up into the mountains to look at the leaves or down the Tennessee river for the landscape.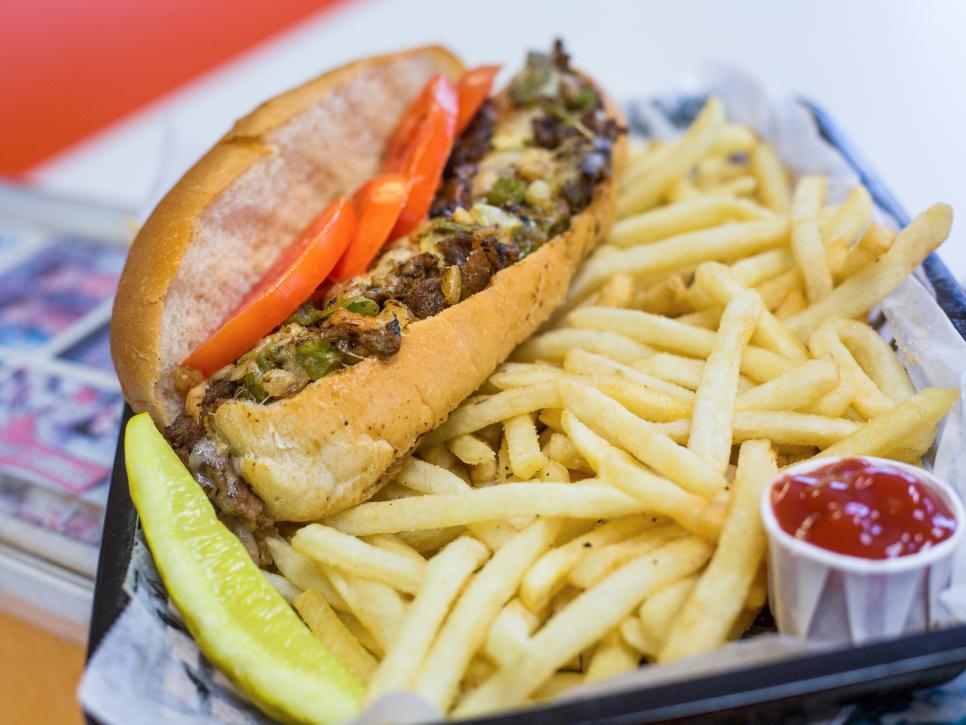 Image Courtesy of Food Network
14. Who would you ask 14 questions?
Thomas Jefferson. Someone so brilliant and complicated and flawed, I think it would be interesting to hear his answers. I'd also be curious to hear what Elvis would say. That'd be fun.
Image Courtesy of Smithsonian Magazine
We'll be back on July 14 with 14 more SEC questions and answers! In the meantime, learn more about the SEC ALDP here.
Editor's Note: Dr. Matthew Theriot is no longer serving as the University of Tennessee SEC ALDP liaison or program chair due to a change in duties.