---
September 14, 2020
Fourteen on the 14th with Kamrhan Farwell
By: SEC Staff
SECU (Twitter: @TheSECU)
You know the SEC. You know its 14 member universities, their school colors, chants, and slogans. But do you know the people? The faculty? The staff? The students? The administrators? Maybe you caught a glimpse of someone on the sidelines of a game or in a campus building, and wondered, "Who's that?" You're curious, and you want more insight. More stories, more advice, and more favorites. Well, we have you covered.
Kamrhan Farwell is Vice Chancellor for Communications and Marketing at the University of Missouri. Hired in 2018, She has made a name for herself by revamping communications strategies to reflect ever-changing advancements in the digital and social media sphere. A native Californian, she's provided her expertise to newspapers and universities across the country. Farwell is now bringing the same know-how to the SEC Council on Racial Equity and Social Justice – established this year to identify strategies and resources for efforts that foster diversity while helping overcome racism and discrimination in intercollegiate athletics.
Keep reading to learn more about Farwell; the type of leader she patterns herself after; her latest documentary binge; and what she hopes for relative to racial and social justice in our September edition of Fourteen on the 14th.
1. How would you explain your role and responsibilities at the University of Missouri?
Essentially, I'm in charge of communications and marketing for our central administration. We have communicators and marketers throughout the colleges and for various units, however, our group holds up institutional messaging, supports the leadership, and sets brand standards for the rest of campus. We also coordinate a unified message so people know our institutional priorities and how their storytelling can play into it.
2. What drew you to this role and the University of Missouri?
I had just stepped into the role of interim vice chancellor at another university when I was approached by Mizzou. The recruiter convinced me this could be really interesting because I would build a team from the ground up following the changes after 2015. [Editor's Note: In 2015, race-related protests included members of the Missouri football team and led to the resignation of the university system president and Columbia campus chancellor.] When I arrived in Columbia, we had one graphic designer. Now we have a digital-first marketing team. Ultimately, this was a great opportunity to come to an AAU (Association of American Universities) institution and change the way Mizzou tells its story.
3. What does it mean to be asked to join the SEC Council on Racial Equity and Social Justice?
It was an honor. Getting a message straight from Commissioner Greg Sankey without knowing who else was asked meant a lot. Initially, I thought all of the SEC communication leaders were on the Council, but when I got to the first meeting, I realized that I was representing my function. I was surprised too because I don't represent an underrepresented population. I thought, "Well maybe I'm not the right person for these conversations and to represent Mizzou." But then I realized how much we all know. I bring my expertise in communications, where other people bring their backgrounds and experiences. It's so important for everyone to bring their proficiencies to the topic.
4. What is your hope for the SEC Council?
I hope we can have a clear message that goes beyond slogans. What's exciting right now is that people are looking out at how we can be different as a society, but there's a lot of looking in. "What am I doing? What assumptions do I have? What are the small things I do that make someone else feel like I think they're lesser than me?" It's one thing to have one police brutality issue, but it's another to have a pattern. I want us to inspire a kind of introspection that asks everyone to think about our society instead of just the people social justice issues affect directly.
5. What role should communications play in social justice movements?
Our university has worked hard to look at itself over the past few years, and we're not done. The conversations happening right now aren't new, but they've reached a new level of importance. I would say Mizzou has been at that level for a long time. These conversations have been front and center for us since I've been here. We have an Office of Diversity and Inclusion now, and we have an inclusive framework for the university and surrounding community. Recently there have been situations that show us we haven't come far enough, but if you look at the metrics, the investment shows significant gains in the diversity of our faculty and students and diverse student achievement over the last several years. The chancellor we have now (Mun Choi) is a man of action, so we've added new training, a bias hotline, and resources for our students, faculty, and staff. The communication and accountability have to be there. Good things can happen, but it doesn't matter if people don't know about it.
6. How would your colleagues and friends describe you?
I'm generally known as friendly and approachable. I have a job that carries an intimidating title, but I don't think my ideas are any better than anyone else's. I like to be encouraging, and I think people would say I'm good at inspiring people to feel comfortable bringing new things forward. I also like to laugh a lot.
7. What does education mean to you?
Education is an opportunity. It's cliché to say, but it's the biggest leveling of the playing field there is. We live in an unequal world, and we'll always have class issues, but education gives us a shot at the life we've dreamed of. It's great when you see a young person go into school as a kid and graduate as an impressive adult. Our young people are doing incredible things, and they wouldn't be able to open that door of possibility without education.
8. How do you motivate others?
I motivate by showing confidence in other people. At work, there are some things I want to approve, but other times I do a lot of pushing back and asking people what they think about their own work because it's their expertise. A lot of people underestimate their own skills, so putting it back on them is very powerful. When someone asks, "What do you want me to do about a situation?" I ask them what they think we should do. Most of the time they're spot on, and they just need to trust themselves. When everyone at every level feels like you trust them, that's beneficial. I feel like blocking the work of others just cuts down on confidence. In the end, if something isn't perfect, that's okay.
9. What keeps you up at night?
It's a tough time for universities right now because we're handling three crises – the pandemic, its economic impact, and the social justice movement –  at once. People are always surprised when I say that as incredible of a challenge as COVID is, I think the social justice piece is tougher to navigate and keeps me up at night. There aren't easy answers there. Universities need to serve everyone, and not everyone agrees on how that should be done. That work is the most important, and thinking about what it looks like, and how we get there with so many feelings and the pain for our students of color is a challenge that we have to face.
10. Who is your biggest inspiration?
This is going to sound cheesy, but my husband of 25 years. He's a really fantastic writer and a Pulitzer Prize finalist. We met at a small daily newspaper in the California desert, and we worked together at The Dallas Morning News. His ability to see humanity and tell its story is crazy inspiring to me. We met when we were young at my first newspaper, and he taught me everything I know about journalism and really seeing people and their stories. He had seen the world, and it's through his lens that I view a lot of the world.
11. What's your guilty pleasure?
I am a documentary nerd. I love them, and Netflix has become the market to binge-watch. The greatest thing about this Netflix era is how documentaries are a thing, and there's a whole bunch of them. I'm reading the New York Times and the Chronicle of Higher Education and whatnot for work, but often I'm just hopping from subject to subject. Documentaries really let me dig deep on one topic – biographies, lifestyle, or history and science. Most recently I watched the Sinatra series and the Michael Jordan series, The Last Dance. I loved that one. It reminded me that anyone who's really *really* great at something, didn't get there by accident. He was a perfectionist, and he just never gave up.
12. If I spend 24 Hours in Columbia, MO where do I have to visit?
Well, Mizzou for starters. The columns are the most beautiful part of campus, but the quad that surrounds them feels like home. The campus is a botanical garden, and it's got that historic feel. It's the first public university west of the Mississippi, so the architecture and the way things look and feel really encapsulate the area. There are also lots of beautiful hiking trails here. You don't have to drive outside of town to get to trails enshrouded with trees to hike and bike. I've only been here for two years, but Booches is one of my beloved places. It's a bunch of pool tables, but in the corner, there's a small burger place. They're known as the best burgers in Columbia, and they are. This is also a good place to have a steak. We know something about cows.
Image Courtesy of Our Eyes Upon Missouri
13. How do you define leadership?
Quality leadership is confident enough not to have to demonstrate it every second. There are some leaders who need to let you know they're in charge and you're there to serve them. Then there are other leaders who are so comfortable that you feel like you're friends and like they believe in you, the organization and what you'll do together. Those are the leaders I pattern myself after. When you can have the confidence in your power to listen to someone who's criticizing you and not be defensive, that takes confidence. I want to be a leader who doesn't say, "Yeah, but…" and is instead relaxed and can cede the floor to say we instead of me.
14. Who would you ask 14 Questions to?
When I was in high school, I thought I was going to be an English major. In that area, the first thing that spoke to me was the transcendentalist movement. I think it would be Henry David Thoreau. He was sort of an anarchist for his time, but his approach to looking at things in a totally different way was very impactful for me. I'd want to talk to him about his thoughts about modern-day life.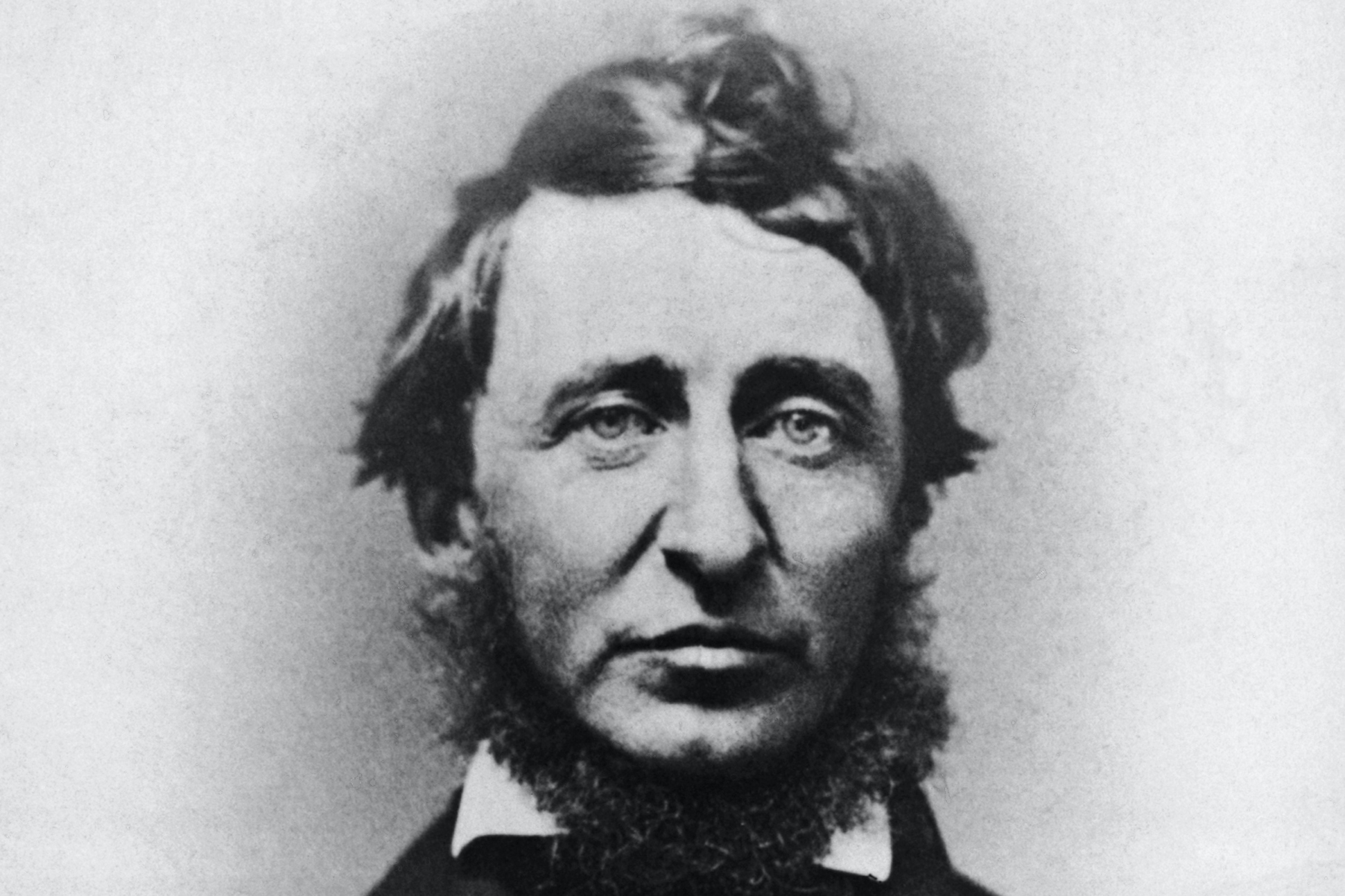 Image Courtesy of Poetry Out Loud
We'll be back on October 14 with 14 more SEC questions and answers! In the meantime, learn more about the SEC Council on Racial Equity and Social Justice!