---
December 14, 2020
Fourteen on the 14th with Mississippi State University's Ann Carr
By: SEC Staff
SECU (Twitter: @TheSECU)
You know the SEC. You know its 14 member universities, their school colors, chants, and slogans. But do you know the people? The faculty? The staff? The students? The administrators? Maybe you caught a glimpse of someone walking around campus and wondered, "Who's that?" You're curious, and you want more insight. More stories, more advice, and more favorites. Well, we have you covered.
Ann Carr is the Deputy Athletic Director, Senior Woman Administrator and Chief Diversity Officer for the Mississippi State University Bulldogs. A 25-year veteran in athletics administration, Carr's journey started on the basketball court at Mississippi State as a student-athlete, and she has earned two degrees from the university.
Keep reading to learn more about Ann; a life lesson from her mother; some of the recipes she's recently cooked; and who she wants to welcome to the SEC.
1. When or how did you decide you wanted to work in intercollegiate athletics?
As a former student-athlete, and as someone who wanted to be a teacher because my mom was a teacher, I think my first job in the athletics academic center at Mississippi State was natural. After I graduated, one of the administrators asked if I wanted to help him in the academic center. I remembered as a student-athlete that I didn't always want to talk to my coach. I also remembered that when I went to the academic center, I didn't see people who looked like me. I didn't fully know what the job was, but I took an internship, and I really liked it — that's how I got into athletics.
2. How has your experience as a student-athlete impacted your work?
I will tell you what my mom told me when I was a student-athlete, "If you're not going to give your all, come sit in the stands with me and cheer on the athletes on the court." I had to learn that mentality. Even when I was having a bad day, I had to turn on that mentality, and it has helped me get where I am today. I also try to find a positive person in any room. When you're engrossed in negativity, you find yourself at the end of the bench or off the team. So, I want to be surrounded by people who push me to be better. If you're making the person in front of you better, you're making yourself better at the same time.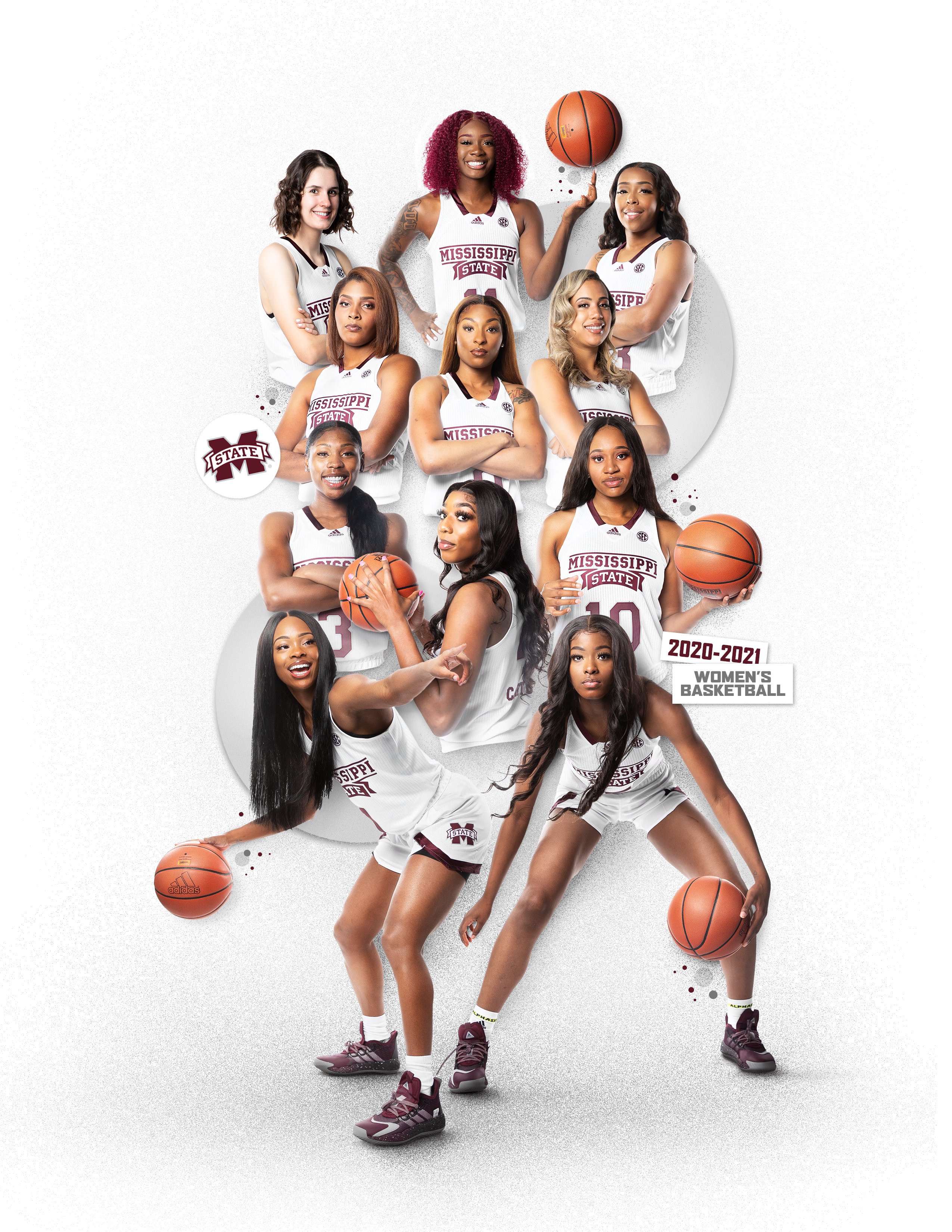 Image Courtesy of Twitter (@HailStateWBK)
3. How would you describe your role in the athletics department?
I'm a jack of all trades, but I was recently promoted to Deputy Athletic Director and Chief Diversity Officer. I'm also the sport administrator for women's basketball. I'm still learning my position, but I have the opportunity to interact with Dr. Rasheda Forbes, Vice President for Access, Diversity and Inclusion, to see how we can collaborate to make sure we're doing what's best for Mississippi State University. I also have the responsibility of figuring out what's best for our student-athletes, particularly given this time of uncertainty and social injustice. The climate for diversity is charged, and I want our students to feel like they can come here, thrive, and be heard.
4. What has kept you at Mississippi State for nearly all of your career?
What's really kept me here is how the people have made me feel. I did leave Mississippi State for a bit, but I asked them if I could come back. A big part of my early career was the flexibility they allowed. I was a single parent, and I was able to navigate how I would raise a child while working in college athletics a lot more here than at other places. I traveled with football, and I couldn't tell my coach, "I can't go." Instead, I was able to drive my daughter to my parents' house on a Friday morning, fly with the team for a game, pick her up on Sunday, and then navigate the work week. The people at Mississippi State never made me feel like I was incapable of doing the job.

Image Courtesy of Mississippi State University
5. What has been the most impactful moment of your career so far?
It's always exciting seeing student-athletes graduate. I especially love seeing them come back and finish their degrees with our Bulldogs Back on Track program, even if it's 20 years later. I've been here long enough that usually I remember students who come back. I have one person in the program right now who graduates this term, and he emails me and our academic staff any time he needs something to make sure he's on target. It's really fulfilling being able to help those former student-athletes who realize they need that degree to move up in their current job and reach their goals.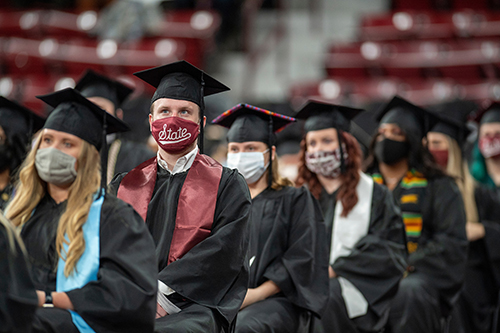 Image Courtesy of Twitter (@msstate)
6. What does education mean to you?
The value of education is everything. Working with Bulldogs Back on Track reminds me daily that you really do need it. For our student-athletes, graduating is an expectation. If you come in, you should be able to graduate from any SEC school with at least an undergraduate degree. In fact, we have our student-athletes here almost year-round, so some of them can push for two before they leave. What's particularly important to me is how we help student-athletes understand and leverage their athletics skills while they major in whatever they want to do after college. It's up to them to learn how to prioritize their major and whatever their sport, but we'll do everything we can to give them the resources they need to be successful and get them across the graduation stage.
7. What was it like being in Mississippi during the recent push to change the state flag?
I grew up in Mississippi, and it was a very powerful, full-circle moment to be able to have Nikki McCray, our first female African American head coach, speak at the Capitol against the flag. As an African American female, no one can walk in my shoes or know what I go through day to day, but I know the old flag being removed was long overdue. It was a reminder of why people can't progress, and that hate can be such a learned thing. I'm glad [SEC] Commissioner Greg Sankey stood up, and said we're not going to be playing in the state until it's replaced. I'm also thankful that the NCAA said we're not going to be playing as well. I think those kinds of statements are when people start paying attention. I am thankful for what my administration did to contribute to the removal of the flag as well.
HAIL STATE pic.twitter.com/FUb7zjvhjM

— Mississippi State Athletics (@HailState) November 7, 2020
8. How do you unwind?
Right now, I'm a big Hallmark Channel watcher. The Christmas movies are on as soon as I get home, and I fall asleep to them. I also really enjoy cooking, especially around the holidays. It makes me happy, and I'm actually getting a few professional cooking tips and recipes from a variety of places, so I've been trying those! I just did a sweet potato casserole that turned out so good. Up next, I'm doing a turkey tetrazzini!
9. Who is your biggest inspiration?
Today, it's our Head Women's Basketball Coach, Nikki McCray. I talk to her just about every day, and I love her. She's a breast cancer survivor, and she has a spirit about her that's always positive. I love it. I see how she responds to our players – even when she has to get on them. She's tough, but never belittling. She came here during COVID-19 and social injustice, and she's made the best of it – without a complaint. She just met her team on Zoom and started making connections and getting them ready to practice. She pushes me to be better and to stay on top of what's happening not only in the SEC, but also with other conferences and the WNBA. I hope she knows that she's wanted here and that we want her to be successful.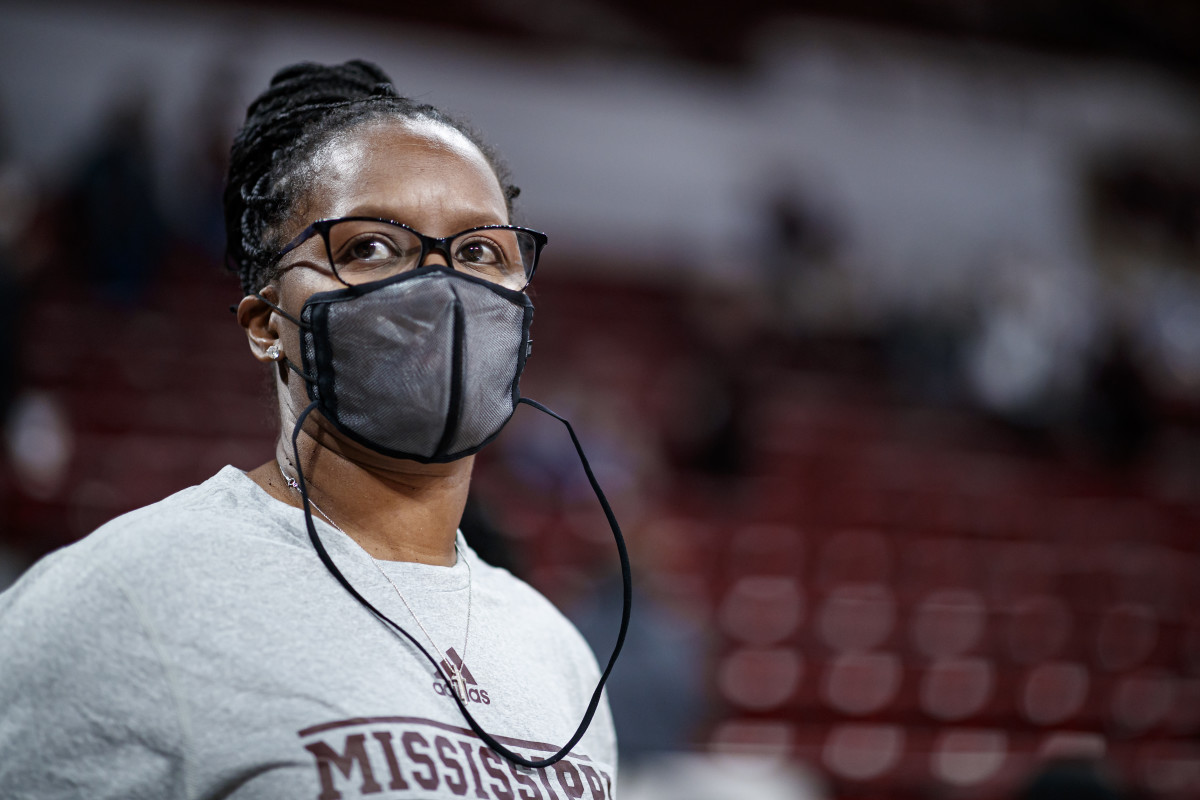 Image Courtesy of Sports Illustrated
10. How would your best friends describe you?
A lot of my friends are no-nonsense, and I'm very similar, so we all keep each other grounded. I think they see me as the friend who says anything that needs to be said. There's no telling what will come out of my mouth, but they've known me long enough to know how I'll respond in certain situations, so it's not a surprise anymore. One of my best friends from childhood actually told me yesterday he would never work for me, and I think he's right. I probably would have fired him by now.
11. Do you have any hidden talents?
I can't sing, and I can't dance. You know something though? I could probably do stand up. The facial expressions on me are something else. You can ask the other SEC Senior Woman Administrators. I can't play poker because my face will tell you everything. I've never tried stand up, but I think I might be able to do it.
12. What is the best gift you have ever received?
I buy myself stuff all the time, and my favorite recent purchase is my retirement car. I decided to buy it before I retired as a treat and to get the retirement gifting out of my system early. I wanted an SUV. It's white with brown leather seats, and I love it.
13. If I spend 24 hours in Starkville, where do I have to visit?
Let's say you're coming for a football game day in a COVID-19 free world, you have to go to University Drive. There are lots of quaint little local businesses like Two Brothers. If you want a nice restaurant, go to Harvey's or Restaurant Tyler. You should also check ahead to see if there is an arts festival or an event like Maroon Madness (i.e., the kickoff to Mississippi State's basketball seasons) happening when you are in town. There's lots to do on those weekends, but you do have to find time to chill out.
Image Courtesy of Greater Starkville Development Partnership
14. Who would you ask 14 questions?
I would talk to our newest SEC Senior Woman Administrator, Dr. Kristene Kelly. She was hired recently at Vanderbilt University, and we don't know a lot about her, other than what's been in press releases and announcements. I would want her to feel like she's a part of the SEC since she's new. I would also want to know how her transition has gone, particularly during COVID-19. We actually had an SWA meeting this morning, and I think Vanderbilt may be teleworking, so I would ultimately just want to check-in. with a colleague.
Image Courtesy of United States Sports Academy
We'll be back on January 14 with 14 more SEC questions and answers! Thanks for reading!