---
April 14, 2021
Fourteen on the 14th with Ole Miss' Lauren Childers
By: SEC Staff
SECU (Twitter: @TheSECU)
You know the SEC. You know its 14 member universities, their school colors, chants and slogans. But do you know the people? The faculty? The staff? The students? The administrators? Maybe you caught a glimpse of someone walking around campus and wondered, "Who's that?" You're curious, and you want more insight. More stories, more advice and more favorites. Well, we have you covered.
Lauren Childers, Associate Director of Admissions for Programs at the University of Mississippi, is a Mississippi native who made a home for herself on campus and now helps prospective students find their home in Oxford. A frequent participant in the longstanding SEC College Tour, Childers and her colleague, Adrienne McDill, have worked diligently to plan next week's virtual SEC tour. Keep reading to learn more about what Lauren believes prospective students should look for in a potential home away from home, some of her most impactful SEC College Tour travel and planning memories, and the one question she would ask if she were conducting her own Fourteen on the 14th interview.
1. How did you get your start in higher education and admissions?
I honestly never envisioned myself in higher education. When I finished my Bachelor's degree, I wanted to go directly into a Master's program and was hoping to secure a graduate assistantship in Admissions, an office that I worked with during my time as an undergrad. On the way to the interview, I ran into Whitman Smith, my former boss and mentor. He's an icon on our campus, and he encouraged me to apply to be an admissions counselor. I had no clue what the job would entail but a few months later, I would find myself driving a minivan and visiting high schools. I ended up deferring my Master's for a semester, but only planned to work as an admissions counselor until I finished the two year degree. However, my parents encouraged me to stay a little longer to say "thank you" for the tuition remission. I ended up staying for four and a half years. I left Ole Miss for a short amount of time, but came back almost immediately. I've been in admissions now for nearly ten years. I ended up where I was supposed to be.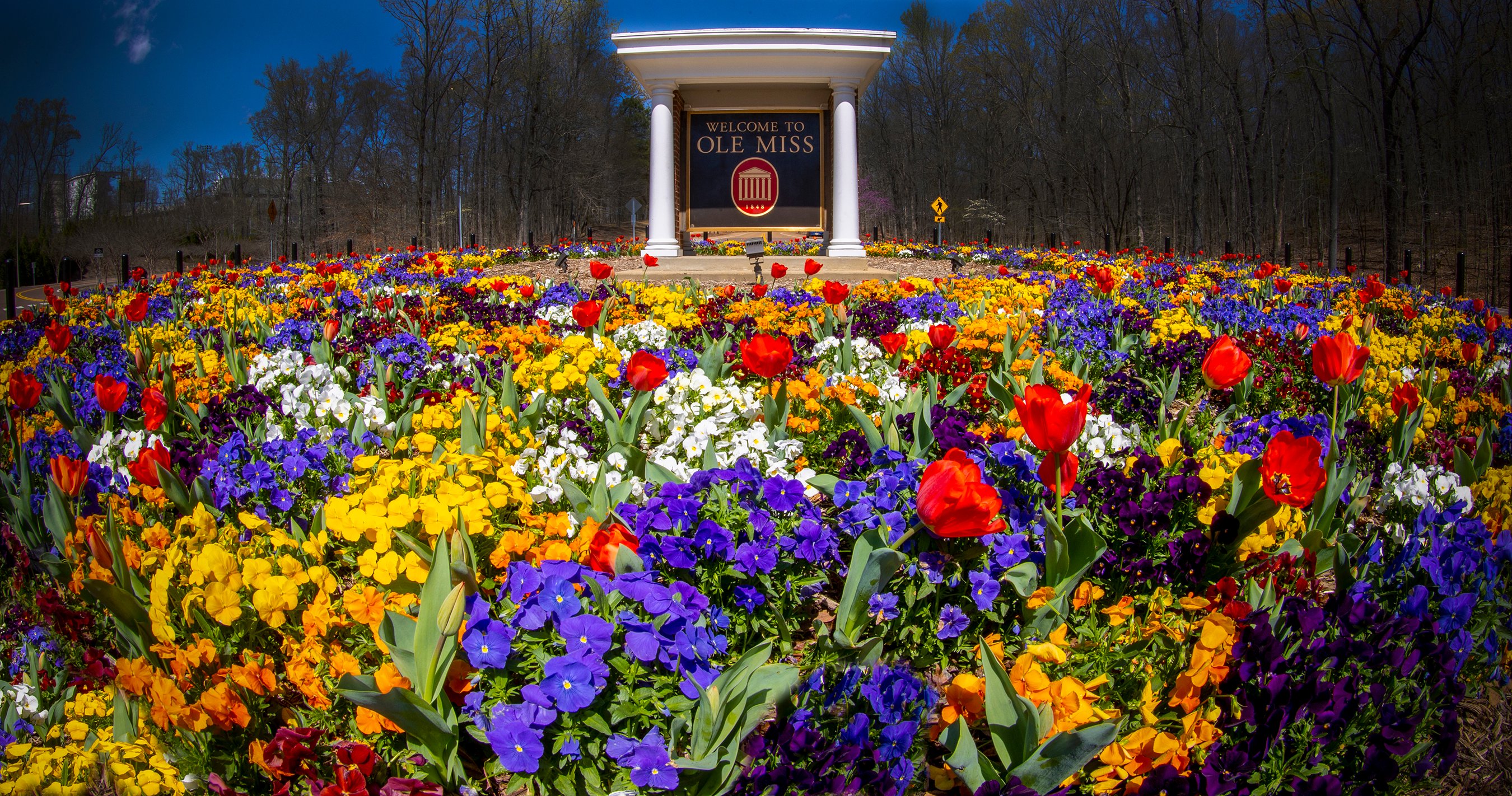 Image Courtesy of Twitter (@OleMissPix)
 2.

How would you describe what you do to someone who isn't familiar with the industry?
In a nutshell, I sell the University of Mississippi to anyone who will listen. In admissions, you learn how to give the 30-second elevator pitch or the hours-long sell – depending on the audience. In a non-COVID-19 year, I travel the state of Mississippi and the country spreading the good news about Ole Miss – and sometimes other schools in the SEC when people lump the South together. I oversee our admissions counselors and help support them in any way that I can. I also facilitate the Apex Leadership Summit (a leadership conference for rising high school seniors and community college students) and help coordinate the MOST Conference (a recruitment conference for rising African American seniors in Mississippi). At the end of the day, we're providing opportunities to students and potentially changing lives.
 3.

Why is a college experience – traditional or nontraditional – so impactful for students?
Growing up in a place like Mississippi, education is the key for lots of people. I remember my dad talking about how you only needed a high school diploma when he was growing up, then it became a Bachelor's degree, and for lots of people now, it's a Master's degree. College helps you explore and learn more about what you want to do and helps expand your horizons. I truly believe education is transformational because the decision to go to college can impact the trajectory of not only a student's life, but also that of their family and community.
4.

What's the one thing you tell prospective students to look for when choosing a school?
It's all about fit. I'm honest with prospective students. I encourage them to pick a school where they feel at home and inspired. Ole Miss and Oxford are very social places and I encourage any student to get involved to make the most of their time here. I remind our team often that as much as we want a student to be at our institution, we want to make sure that students are going to be happy and feel that they can truly thrive here.
5. What do you love about your job?
I love knowing that I'm making a difference in the lives of the students I work with. It's not always an easy job, and I'm not always delivering positive, happy news, but even on the challenging days, knowing that my interaction with a student or a family could mean the difference in them continuing their education is worth it. I wouldn't change my student experience at Ole Miss for anything and knowing that I can play a small part in that decision for someone else is really rewarding.
6. What's kept you at Ole Miss?
The people. It's one of those places that you can't help but love. People call Oxford the "Velvet Ditch" – because it is a comfy place that is hard to crawl out of. It's unique being in the SEC and having the resources of a larger institution while being part of such a tight-knit community that feels like family. I can easily pick up the phone and call anybody on campus to help with an issue, and I hope they would say the same about me and our team. It's amazing how quickly this place feels like home. When I came to Ole Miss, I was the only girl from my high school enrolling that year, and I cried every day for the first two weeks because it was so different. My parents think it's so funny because now I talk about the university and our students ad nauseum.
7. What's it been like navigating the change in format while planning the SEC College Tour?
I remember being really excited about planning the Spring 2020 trip to Chicago and Indianapolis because Illinois is one of the top five feeder states for Ole Miss. We planned, booked locations, and went on multiple site visits. Then, I remember being in Nashville at the SEC Men's Basketball Tournament when the rest of the tournament was canceled. I didn't know the magnitude of what was happening at the time, so when we decided to cancel the SEC Tour, it was hard to process. I'll never forget reaching out to our venue contacts and getting bounce-back emails from people who had already been furloughed because large-scale events had been canceled. When the decision was made to move to virtual SEC tours this year, we chose to go back to the same locations to honor the invites we had sent the year before. Registration is open now, and we're getting great feedback. I'm excited about adding this moving forward – in addition to starting back our in-person visits – to reach more people. It's also nice to be able to come full circle and start and finish the process for our colleagues.
Childers (R) with an Auburn University colleague during the 2019 Fall SEC College Tour in Chandler, Arizona.
8. What are some of your favorite travel memories with the SEC College Tour?
It doesn't matter where we go, we always have a great time! I've enjoyed getting to meet colleagues from different institutions and of course, sightseeing. The tours in Northern and Southern California were definitely two of my favorites. During one trip, my coworker and I were walking down the boardwalk in Solana Beach, and we had on Ole Miss shirts. This little girl, who couldn't have been more than four, started yelling "Hotty Toddy!" One of her parents was an alum, and it was a really awesome connection point. Making those kinds of connections is one of my favorite parts of travel. We always run into Ole Miss people – it never fails.
University admissions representatives during the 2019 Fall SEC College Tour in Las Vegas, Nevada.
9. What keeps you up at night?
I'm not the best sleeper. I'll randomly think about something I need to do in the middle of the night and wake up. So most of what keeps me up is my brain making to-do lists. I planned an event once, and it hit me at 2:30 in the morning that I hadn't ordered tables and chairs. I will say if I can shut my mind off though, I can sleep anywhere. After programs where I've worked 16+ hours three or four days in a row, I've been known to fall asleep sitting straight up. I've been that way since I was a kid. If I can get still and quiet, I'm out.
10. How do you unwind?
That's something I've had to learn to do, and I'm honestly still working on it – especially in the COVID-19 era. I might delete my email off of my phone for the weekend or intentionally put my computer away. Netflix is my go-to to unwind though. I watch New Girl when I want a classic, but recently I've been a fan of mini-series. I just finished the college admissions scandal documentary, Bridgerton, and Ginny and Georgia. I usually just look at the top 10 and see what's trending. 
11. Do you have any hidden talents?
I wish. My brother can play the guitar, but I can't really do anything fun. I'm not athletic at all. I am good at cheering for our teams though. I love and somewhat understand basketball but can't say the same for most other sports. Justin Bell (former Ole Miss football student-athlete) was one of our admissions counselors, and I remember him trying to explain football plays and positions to me with sugar packets at an event, and I just couldn't get it. I feel like I'd be a dramatic athlete though. If someone hit me, and the ref didn't see it, I'd have to tell.
12. How would your best friends describe you?
Oh gosh, I hope they would say good things. I think they would tell you that I'm honest. I'm the friend you go to if you want the truth because I'm not one to sugarcoat things. I'm also loyal – sometimes to a fault. If we are friends, I'm with you 'till the end. I would also hope they'd say I'm the person you can count on. Even if it's been years and we've gone our separate ways, I'm the person you can pick up a conversation with like it never left off.
13. If I spend 24 hours in Oxford, where do I have to visit?
Oxford has tons of great restaurants so we're gonna see how many meals we can cram into those 24 hours. We might have to break meals up– maybe an appetizer here, and an entree there. My top three restaurants would be Saint Leo – they have great pizza, and their chopped salad is a must; Ajax Diner – a typical recommendation, so good but you'll definitely need a nap right after; and Jinsei – it's unlike any other restaurant around here. 
Outside of eating, if you came to visit around a sporting event, I'd love to take you tailgating in The Grove or to experience a basketball game in The Pavilion. We could go to Rowan Oak, check out The Square, or walk through campus. The options really are endless!
Image Courtesy of StyleBlueprint
14. Who would you ask 14 questions?
I wish I could ask 14 different people one question but I would for sure want to talk to my great grandmother on my dad's side, Lillian. She passed when I was two, so I don't have memories of her, but people always have amazing things to say about how influential she was to them. I also think I would talk to FDR. I grew up in a political family, and I know he would have so much to talk about because of not only how long he served, but also his work during the Great Depression, World War II, and his work creating the Tennessee Valley Authority. The TVA established Pickwick Lake, a place my family loves and visits all the time, so that's a personal connection I'd like to explore. I also think service staff who have been in the White House for 30-40+ years would be really interesting. I watched a documentary about how they quickly flip The White House in between presidencies, and I watched Becoming where Michelle Obama talks a lot about the service staff. They see the real stuff. 
We'll be back on May 14 with 14 more SEC questions and answers! Thanks for reading!