---
January 14, 2021
Fourteen on the 14th with Texas A&M's Dr. Holly Hudson
By: SEC Staff
SECU (Twitter: @TheSECU)
You know the SEC. You know its 14 member universities, their school colors, chants, and slogans. But do you know the people? The faculty? The staff? The students? The administrators? Maybe you caught a glimpse of someone walking around campus and wondered, "Who's that?" You're curious, and you want more insight. More stories, more advice, and more favorites. Well, we have you covered.
Dr. Holly Hudson is Executive Director of Education Abroad at Texas A&M University. A native of the Gulf South, she spent her formative years traveling with her parents and now helps Aggies "grow beyond their zip code." An education industry veteran, Dr. Hudson honed her talents at the University of Alabama and the University of Southern Mississippi, before arriving at Texas A&M two years ago.
Keep reading to learn more about Dr. Hudson; why she believes education abroad is so vital to student development; her favorite country to travel to – of the more than 20 she's visited; and how she likes her gumbo.
1. How did you get your start in education abroad?
I grew up in that world because both of my parents worked in international education. My mom taught English as a second language, and my dad was a professor of cultural geography. He took students abroad to visit places like Jamaica, Mexico, and the UK, so I traveled at a young age with them. I always thought I was missing out on time with friends at summer camp, but as I got older, I realized how much of an opportunity I was afforded. My traveling roots came back to me after college, and I taught English as a second language in Taiwan for a while, went to graduate school, and decided to make the move to higher education after tiring of a cubicle job in Washington, D.C.
2. How would you describe what you do to someone who isn't familiar with the industry?
On a broad scale, my job is to make sure the functions of education abroad – the policy, the process, and procedures – are there. I make sure my team members have the resources they need, and that we're represented across campus. I also make sure we're engaged in Texas A&M's global outreach. But education abroad, at its core, is about developing opportunities for students to engage globally so they come back as more knowledgeable, empathetic citizens who understand their place in the world.
3. Why is an education abroad experience so impactful for students?
Education in general is about creating access and opportunity. The more access we have to ideas, people, and places, the more opportunity we have. Education abroad in particular is a chance to expand one's views and engage and learn in real time. I'm passionate about creating those opportunities for all students – not just those from privileged backgrounds. If we're only offering those opportunities to students who've traditionally had them – myself included, we're not offering an equitable opportunity to grow beyond their zip code. We have to have opportunities that are available, interesting, sustainable, and accessible for all our students.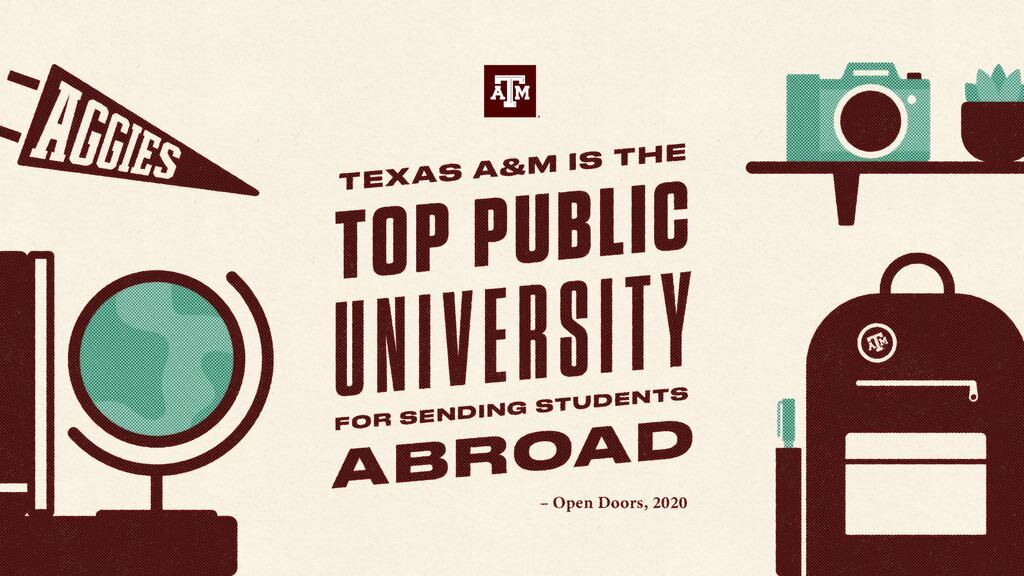 Image Courtesy of Twitter (@TAMUabroad)
4. What do you think the long-term impact of the novel coronavirus will be on education abroad?
That's the million-dollar question! I can't tell you how many dialogues we've had about what things will look like, but I think two things will happen. In the short term, we're going to continue to see some suffering. Our education abroad community and colleagues have been ravaged by this. On the positive side, we've adapted things like virtual experiences, which create even more access. It's not a true replacement, but it's an opportunity to generate interest. Long term, it's likely that with everyone cooped up in their homes for a year or more, we will see a surge in participation, probably not overnight, but I think we'll see an increase in participation in the next few years. The pandemic is highlighting the importance of a global community and being with other people.
5. Where is your favorite place to visit in the world?
Because I had the good fortune of traveling in my youth with my parents, I spent a lot of time in London. I also worked there in the summers with my first education abroad job, so it's nostalgic for me. It's the first place outside of the U.S. that I ever spent significant time in, and it feels like home abroad. However, my favorite place is Cuba. I had an opportunity to go before it was opened under President Barack Obama, and I was blown away. It's a time capsule, and the people and the hospitality are amazing. The dialogue was interesting and robust, and the people are incredibly intelligent and thoughtful with very interesting perspectives. I did have the opportunity to visit Texas A&M's Qatar campus last January. It was the last place I traveled before the pandemic, and it was beautiful. The water and the sky were so blue, and everything was pristine and luxurious. It was my first trip to the middle east, and I loved it.
6. Do you prefer a window or an aisle seat?
Aisle, always. I'm an active person, and I have trouble sitting still. At work, I sit on a yoga ball and bounce or I move up my standing desk. Honestly, I don't have a real chair in my office. When I'm on a plane, I don't like to feel trapped, and I don't like asking people to let me get by. I'm always amazed when people can curl up and watch a movie or nap for an entire flight. If we're on a six-hour flight, I'd get up 12 times.
7. How would your best friends describe you?
I value friendship – especially among women, big time. I have a very tight group of girlfriends that I've made throughout my life, and they're "talk every day" important to me. I think they would say I'm loud, opinionated, energetic, and funny. But I also think they would say I'm the first person to show up when someone needs something, and that I'll drop everything in a crisis or if someone needs me. One of my friends recently said she thinks of me as the person who will drive the getaway car, and another called me a "southern epicurean."
8. How do you motivate others?
This year has challenged me in that department, but one thing I do well is not sweating the small stuff. I try not to get too worked up about the little things that don't work, and I try to meet people where they are to figure out what they need. I want to motivate people the way they receive it best – whether that's encouragement or to be left alone to work.
Dr. Hudson and the Texas A&M University Education Abroad Team (photo is Pre-COVID 19).
9. How do you define leadership?
Leadership isn't one size fits all, and it's about how you show up for people. To me, leadership and motivation go hand in hand. I carve out time to just talk with my team – about life, a show they're binge-watching, or things they need to vent about. That moment of levity, especially right now, is incredibly important.
10. What keeps you up at night?
I'm a naturally optimistic person, and I try not to worry about things that are outside of my control, so I don't get bogged down in overthinking often, but I do worry about others. I worry about my team being at home and if they're really okay, because you can't see people all day or all week. Otherwise, I worry about my children and my family. I'm a mom of three boys – two of whom are teenagers. If I'm up at night, it's because I'm thinking about how they're doing, if they've talked to me, if they're going to college, and if they're being raised well.
11. How do you unwind? 
I'm a yogi! For the last 20 years, I've practiced, and it's really helpful. I also spin. I bought a Peloton after gyms closed last year, and I've become one of those Peloton people everyone makes fun of. I also love to cook, and I've started learning to bake during the quarantine. I'm not making ridiculous tarts, but I have mastered yeast bread and chocolate chip cookies. I also love to cook gumbo. I don't make it often because I love seafood, and one of my sons has an allergy. It's a Christmas tradition with my parents, but chicken and andouille gumbo isn't the same as a good seafood gumbo.
12. If I spend 24 hours in College Station, where do I have to visit?
I've only been here for a little while, so I'm not an expert yet, but you must go to campus and see the monstrosity that is Kyle Field. I love college football, so I pay attention to stadiums and Kyle Field is impressive. It's visible from most of the city. I would also encourage you to visit the Bush presidential library. I think presidential libraries are fascinating, and this one is beautiful and subtle and emulates all things Texas A&M. It's lovely. Also, this area has great food. You can get really good Tex-Mex, and everyone says you have to go to the Dixie Chicken. They make a surprisingly great cheeseburger!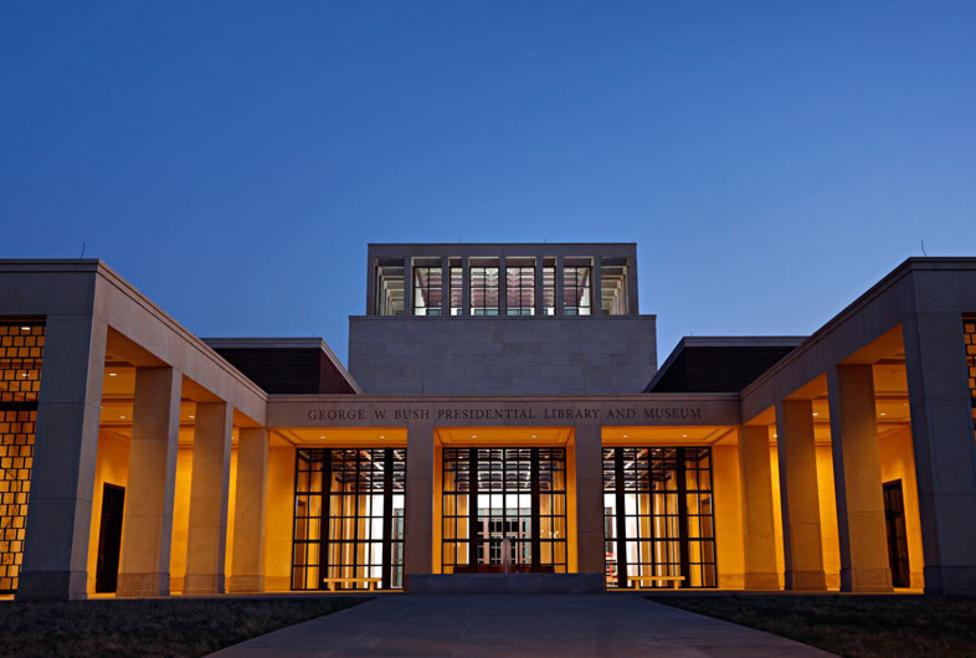 Image Courtesy of Visit Irving Texas
13. Who is your biggest inspiration?
My family and friends, and my education abroad team! I'm so inspired by people's everyday lives. Moms, people trying to better themselves, first-generation students. The tenacity of human beings to overcome and keep going is inspiring to me. I'm in awe of humanity – people and their daily walks. It's hard to feel sorry for yourself when you look at people's stories and how they're showing up to make a difference.
14. Who would you ask 14 questions?
I feel like everybody has such quick answers to these questions, but I would change my answer from day-to-day. Probably Gandhi. I know that may be a stock answer, but in terms of decision-making, tenacity, and motivation to make real change, I think he'd be interesting. Also, maybe Terry Gross from NPR's Fresh Air. She's fascinating, and I think it would be interesting to interview someone who interviews people for a living. She asks the tough questions, and it'd be fun to flip the script. 
We'll be back on February 14 with 14 more SEC questions and answers! Thanks for reading!