---
December 23, 2020
It Just Means More Community Outreach
By: SEC Staff
SECU (Twitter: @TheSECU)
When the holiday season begins, we're inundated with commercials for the newest products to buy, recipes to prepare, and décor to make our homes feel festive. While many cherish the opportunity to give and receive those new products, prepare those new recipes, and spruce up the house, others use this time to reflect on something deeper: the human connection that strengthens during the holidays. Just like a lot of other things in 2020, making that connection has probably looked a little different, but the spirit of the season remains the same.
Keep reading to see how some SEC students, faculty and staff have found ways to give back and support their communities and beyond throughout this unprecedented year.
University of Alabama
Senior Creates Greeting Cards to Cheer Nursing Home Residents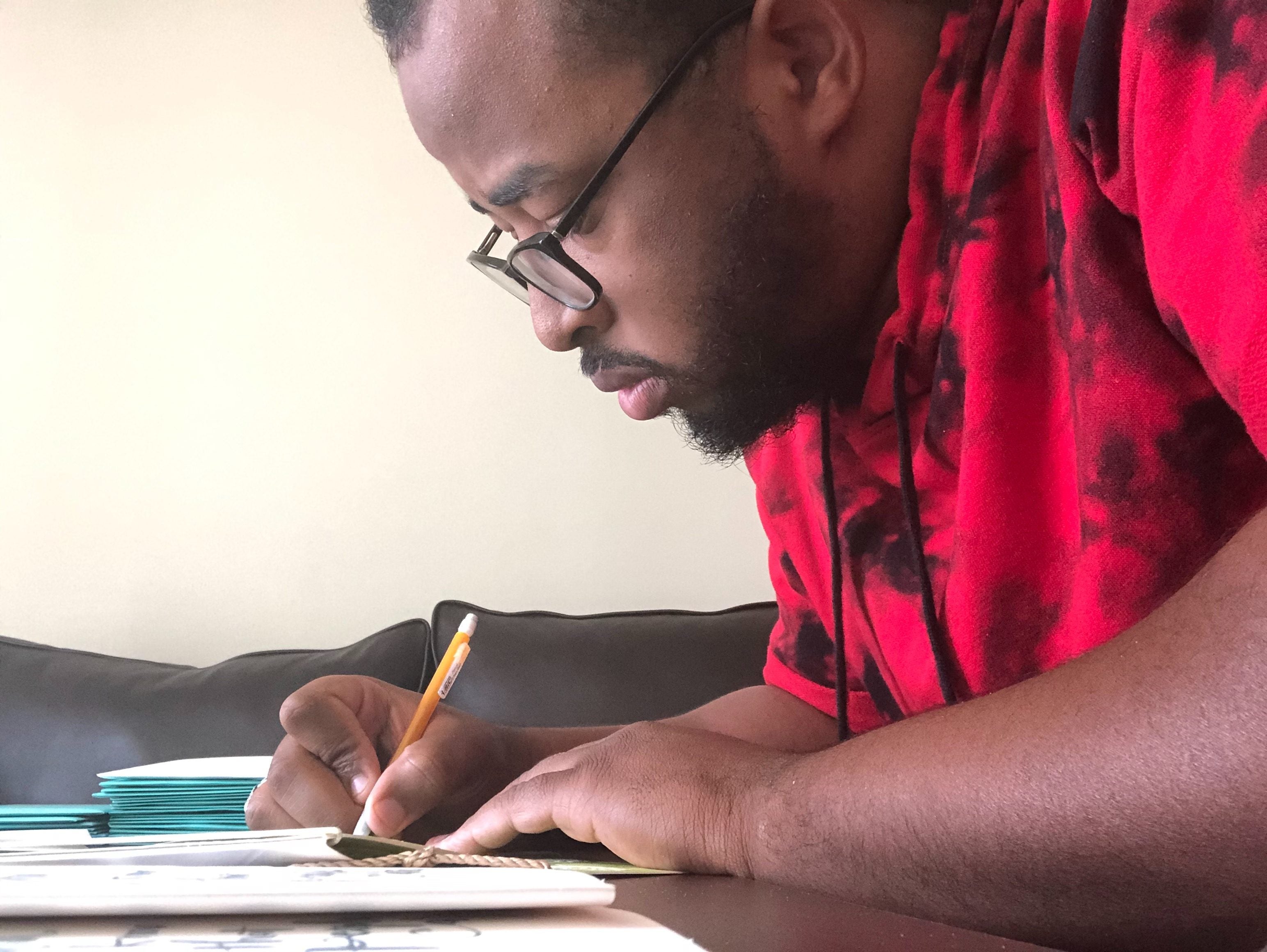 University of Alabama senior Demarcus Rudolph created greeting cards for nursing home residents when he realized how many were unable to see their loved ones in person. Rudolph, a Daphne, Ala., early childhood special education major, said he wanted to do something to lift their spirits. He added, "It feels good to know that we're putting smiles on people's faces, especially during a time where people are sad because of what's going on."
University of Arkansas
Professor Helps Free Death Row Inmate Who Spent 35 Years in Prison
For one of our recent SEC Academic Leadership Development Program fellows, outreach means using her legal skills to represent a wrongly convicted man. Tiffany Murphy, associate professor at the University of Arkansas School of Law, had spent seven years on Karl Fontenot's case when a judge ordered him to be released, citing newly discovered evidence that provides "solid proof of Mr. Fontenot's probable innocence." Murphy began the case while head of the Oklahoma Innocence Project and continues on a pro bono basis after joining the faculty at Arkansas.
Auburn University
Auburn University ranked among top U.S. colleges excelling at community outreach
Great Value Colleges lists Auburn University among its top U.S. colleges and universities providing outreach and community support on a local, national and international scale, particularly during this year's COVID-19 pandemic. Royrickers Cook, vice president for university outreach, said the recognition is "especially significant because it highlights our rapid response to the pandemic crisis, as well as the effectiveness of faculty engagement toward alleviating the impact of coronavirus in our community."
University of Florida
University of Florida ranked #2 among Peace Corps' 2020 top volunteer-producing schools
The Peace Corps recently announced the University of Florida is ranked No. 2 among large schools on the agency's list of top volunteer-producing colleges and universities in 2020. There are currently 70 Gators volunteering in countries around the world, and since the Peace Corps' founding in 1961, more than 1,460 UF alumni have served abroad with the agency. [NOTE: The University of Wisconsin ranked No. 1 – by nine students.]
University of Georgia
Bulldogs take action to support the community
Soon after the University of Georgia's football team came up with a list of nearly 20 projects it could do to make a difference in the local Athens community, the Dawgs for Pups initiative was launched. The first effort raised enough money to provide internet access via Wi-Fi hotspots for students in Clarke County public schools who had to be online for virtual classes. In addition, the Dawgs for Pups initiative has secured more than 430 winter coats for local kids.
University of Kentucky
Project Allows UK Student to Positively Impact her Community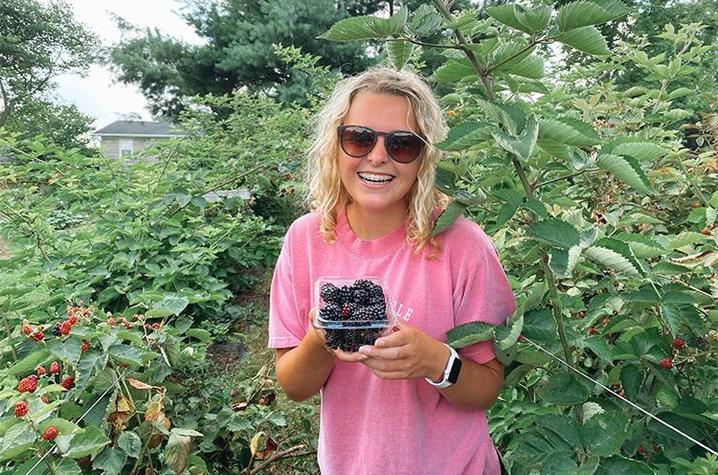 For Lucinda Smith, a University of Kentucky student, undergraduate research has provided an opportunity to meet a health and wellness need – through fresh berries. Smith is contributing to research that could lead to healthier habits in her own eastern Kentucky community by getting blackberries into the hands of local residents who might not be able to afford them otherwise. She noted blackberries grow well in Kentucky and are easy to plant and maintain, and they can help reduce inflammation.
Louisiana State University
LSU Graduate's Art Gives Thanks to Essential Workers
LSU graduate Thomas Wimberly's art recently found a new, larger home when it was displayed on the side of a New York City hospital. The piece is entitled "Global Forefront," and it thanks the world's essential workers during the COVID-19 pandemic. Wimberly said, "I wanted to bring attention to the incredible service they are performing for the rest of us. I thought that, of course, the mask was a good place to start."
University of Mississippi
University Recognized for Community Engagement Efforts
The University of Mississippi earned the Elective Carnegie Community Engagement Classification from the Carnegie Foundation for the Advancement of Teaching in 2020. The honor recognizes colleges and universities for their commitment to engaging with their surrounding areas. For Ole Miss, it includes efforts like the Big Event, which is the largest day of community service in the state and includes nearly 2,000 student volunteers working on projects ranging from small park cleanups to this year's quest to provide new bookshelves for the Lafayette County and Oxford Public Library.
Mississippi State University
Double the Meaning: MSU, Habitat for Humanity partner to build 12th home for local family while honoring Starkville resident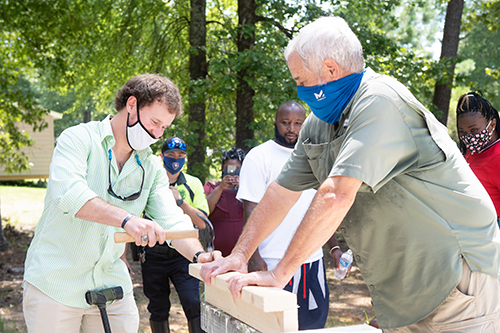 In August, Mississippi State University students honored a U.S. Veteran while building the 12th Maroon Edition Habitat for Humanity home. Alongside Habitat for Humanity volunteers, MSU students helped create the space Santana Turnipseed, Chadrick Robinson and their five children will call home, all while honoring Matt Savage, a retired U.S. Army captain. The Habitat home is part of the service learning component of the Maroon Edition First-Year Reading Experience at Mississippi State.
University of Missouri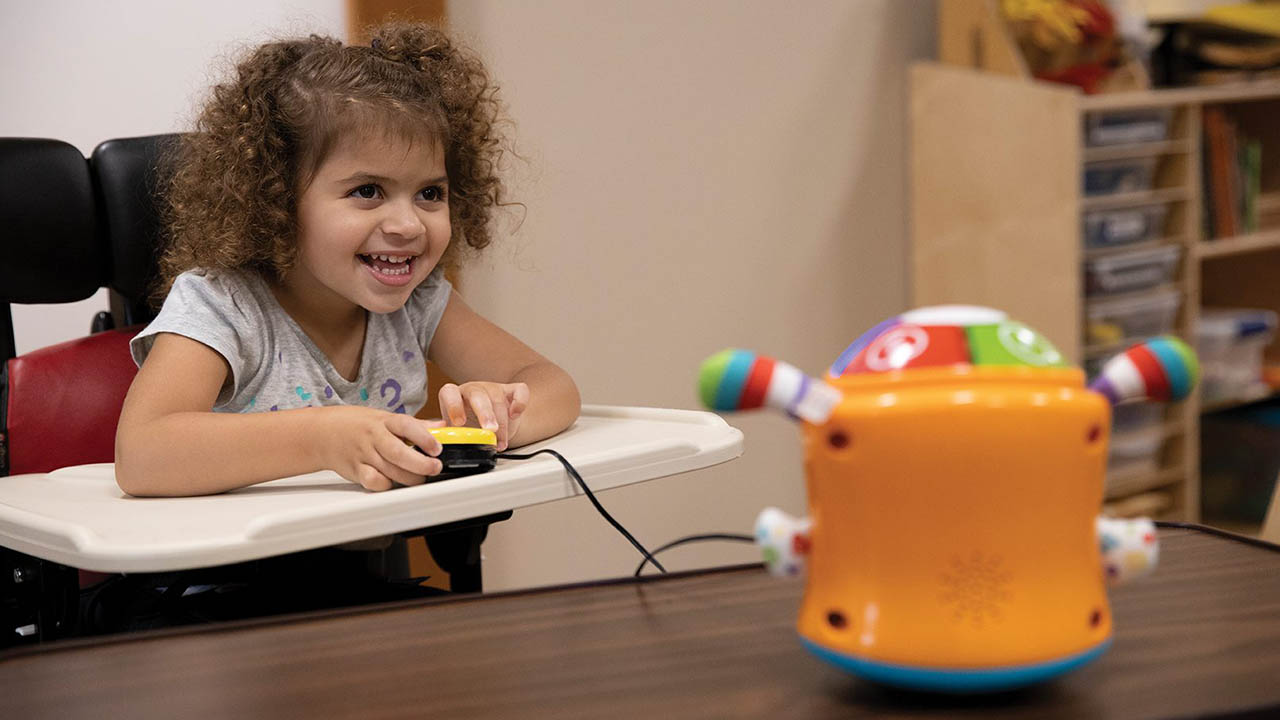 A pediatric physical therapist, University of Missouri graduate Rachel Hughes helped found Pascale's Pals Switched Adapted Toys to help children who have motor impairments and have trouble pushing buttons to activate their electronic toys. After seeing the challenges children and their families faced first-hand, Hughes began modifying donated and store-bought toys in her basement. Now, Pascale volunteers are helping adapt train sets, remote-control cars and more for kids.
University of South Carolina
World Food Program, led by David Beasley, wins Nobel Peace Prize
This year the Nobel Peace Prize was awarded to the World Food Program, which is led by David Beasley, a 1979 and 1983 law graduate of the University of South Carolina and former governor of the Palmetto State. According to the Norwegian Nobel Committee, the World Food Program was selected for the highly prestigious honor for its "efforts to combat hunger, for its contribution to bettering conditions for peace in conflict-affected areas and for acting as a driving force in efforts to prevent the use of hunger as a weapon of war and conflict."
University of Tennessee
University of Tennessee Launches Volunteer Impact Academy
The University of Tennessee recently launched the Volunteer Impact Academy, a partnership between the Clay and Debbie Jones Center for Leadership and Service and the Office of Undergraduate Admissions that will provide an immersive, four-year cohort experience to students who embody what it means to be a Volunteer. Mandie Beeler, director of the Jones Center, said, "The Volunteer Impact Academy offers a unique opportunity for students to explore and expand their leadership potential while also learning how their unique strengths and skills can best serve the community."
Texas A&M University
Texas A&M Foundation Partners With REACH To Feed Local Families
In the spirit of giving, the Texas A&M University Foundation used money normally spent on its annual staff holiday gathering – canceled due to the COVID-19 pandemic – to purchase meals from the university's Rosenthal Meat Center that could be used by REACH, a nonprofit that provides family meals for food service, custodial, maintenance workers and groundskeepers who work at Texas A&M. The foundation's 200 care packages will feed four to six people, and they were presented in a drive-thru distribution for selected families.
Vanderbilt University
Vanderbilt partners with OneGenAway to provide university neighbors with access to healthy food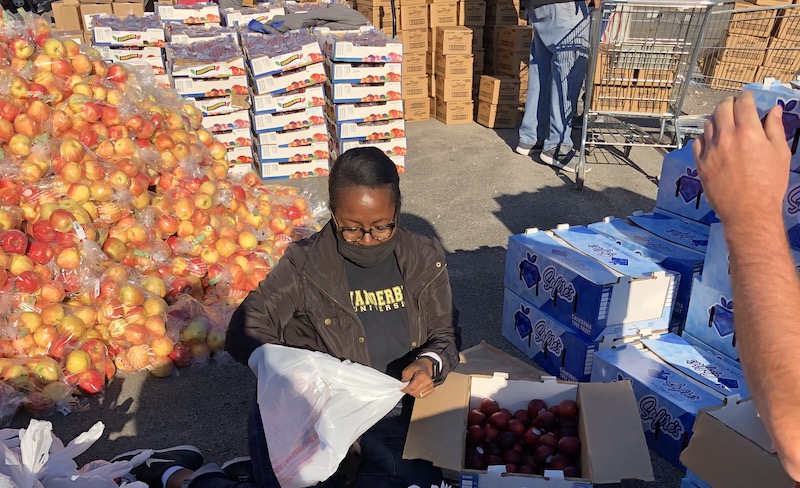 Vanderbilt University and OneGenAway, a nonprofit organization that strives to eliminate food deserts, partnered to provide 30,000 pounds of healthy food to families in the Midtown, Edgehill and Chestnut Hill neighborhoods in Nashville. Volunteers from the Vanderbilt Woman's Club, Next Steps at Vanderbilt University, Vanderbilt University Police Department and faculty members were on hand to stack and fill boxes of food for those in needs.
There are still a few days left in 2020, so If you have the chance and the inclination, don't forget to do something nice for someone else – keeping all recommended COVID-19 prevention measures in mind. After all, in the SEC, It Just Means More Teaching, Research and SERVICE. 'Tis the season!