---
June 12, 2020
It Just Means More SEC in Your Watchlist
By: SEC Staff
SECU (Twitter: @TheSECU)
There's no denying the past few months have been a challenge. Whether you're trying to decide which outdoor activities are right for you and your family, still not adjusted to the kitchen table as your workspace, or navigating difficult conversations about racism and injustice with family and friends, it's possible you might need to unwind and recharge your mental batteries.
The Southeastern Conference boasts no shortage of creativity when it comes to the big or small screen, and in these unprecedented days, a small distraction might be just enough to get you refocused on the opportunity tomorrow presents. So, if your usual watchlist is blank, here are a few SEC-connected films and TV shows to consider.
Alabama – Star Trek: Discovery (CBS All Access)
You don't have to be a hardcore Trekkie to jump on board for this ride. Star Trek: Discovery is perfect for casual sci-fi fans looking for a fun adventure into the great unknown. And University of Alabama alums and supporters will enjoy seeing 2007 theatre graduate Sonequa Martin-Green in the leading role of First Officer Michael Burnham.
Image Courtesy of IMDB
Arkansas – True Detective (HBO, DirecTV)
One of the most talked-about HBO series of the last decade, True Detective owes a debt to the SEC West. Creator, writer and occasional director Nic Pizzolatto earned a bachelor's degree at LSU, and it was the University of Arkansas's Master of Fine Arts program that helped him refine his skills. Likewise, the series began in Louisiana before relocating to the Ozarks in the third season.
Image Courtesy of IMDB
Auburn – Self Made: Inspired by the Life of Madam C. J. Walker (Netflix)
A proud alumnus of Auburn University, Octavia Spencer has become a beloved figure in SEC country. If you've already seen her Oscar-nominated performances in The Help, Hidden Figures and The Shape of Water, dive into Self Made, a brand-new, four-part series that tells the story of Madam C. J. Walker, America's first independent black female millionaire.
Image Courtesy of IMDB
Florida – Barry (HBO, DirecTV)
For decades, University of Florida graduate Stephen Root has made a living playing a range of characters in films and on television. (You may recognize him from Office Space or his work with the Coen Brothers.) But his featured role on Barry allowed Root to truly shine, earning him his first Emmy nomination in 2019.
Image Courtesy of IMDB
Georgia – Unbreakable Kimmy Schmidt (Netflix)
 After graduating from the University of Georgia with a bachelor's in music, Tituss Burgess went on to an impressive career on Broadway. But it was his self-named character on Unbreakable Kimmy Schmidt that made him a modern-day comedy icon. The series (and a new interactive special) has earned Burgess four consecutive Emmy nominations.
Image Courtesy of IMDB
Kentucky – Royal Pains (Netflix)
With more than 100 episodes in eight seasons, Royal Pains will keep you entertained for hours. And University of Kentucky grads will undoubtedly appreciate seeing fellow alum Reshma Shetty, who played physician assistant Divya Katdare. Shetty earned a master's in music at UK and spent time on Broadway before focusing on television and film.
Image Courtesy of TV Guide
LSU – Rocky (Showtime, CBS All Access)
Not many SEC graduates can say they have a star on the Hollywood Walk of Fame, but Bill Conti certainly earned his. This LSU School of Music graduate has composed some of cinema's most iconic music, including an original score for The Right Stuff that earned him an Academy Award. But it's his iconic "Gonna Fly Now" theme from Rocky that will live forever.
Image Courtesy of IMDB
Ole Miss – Home Town (Amazon Prime, FuboTV, Hulu)
After weeks of not venturing too far from your own place, you may have found a few projects that you want to tackle around the house. Before you refurbish that midcentury modern dresser, take a look at what University of Mississippi grads Ben and Erin Napier are creating on HGTV's Home Town. The couple met at Ole Miss, and together they restore historic homes in Laurel, Mississippi. With DIY projects and a custom piece of art for each homeowner, Home Town is sure to inspire the designer in you.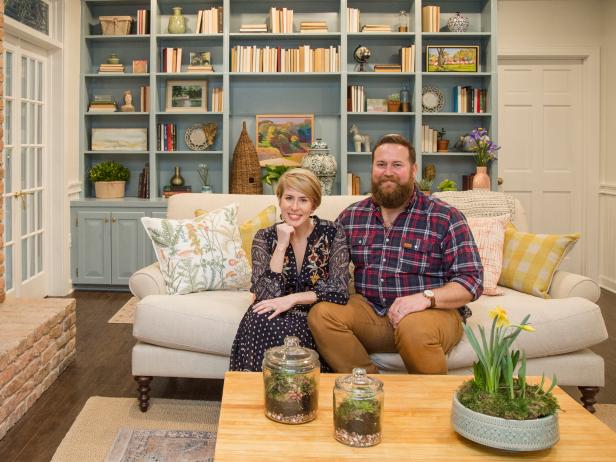 Image Courtesy of HGTV
 Mississippi State – The Firm (DirecTV, FuboTV)
John Grisham, the accounting graduate from Mississippi State University, is a famed novelist who has sold more than 275 million copies of his approximate 35 books. His legal thrillers and other stories have been made into 11 films and four TV shows, including his very first adaptation, The Firm.
Image Courtesy of IMDB
Missouri – Adaptation (Showtime, FuboTV)
If you've already completed Mad Men (Jon Hamm, class of 1993) and seen the Major League films half a dozen times (Tom Berenger, class of 1971), it might be time to check out the wacky modern classic Adaptation. Nicolas Cage plays twin brothers, but the real star of the show is University of Missouri grad Chris Cooper as John Laroche, a role that won him an Oscar.
Image Courtesy of IMDB
South Carolina – Luke Cage (Netflix)
After earning a bachelor's degree in theatre from the University of South Carolina, Mike Colter spent a decade and a half working on modest film and TV roles before making it big in the Marvel Cinematic Universe. His portrayal of superhero Luke Cage, which debuted in the Jessica Jones series in 2015, eventually landed him his own series.
Image Courtesy of IMDB
Tennessee – The Invitation (Netflix)
If you prefer thrills and chills in your binge-watching, allow Logan Marshall-Green to be your guide. This University of Tennessee graduate (and former entertainment writer for UT's Daily Beacon) has been in some fantastic films, but in The Invitation, he's the star of the show—on both the big and small screen.
Image Courtesy of IMDB
Texas A&M – Monsters, Inc. (Disney+)
Animated films have changed the movie game in the last 25 years, and the Texas A&M University Visualization Lab—one of the top-ranked in the country—has been a big part of it. Several Pixar films feature former Aggie students, including Monsters, Inc.; in fact, legend has it the lovable Sulley character was named after former Texas A&M President Lawrence Sullivan Ross.
Image Courtesy of IMDB
Vanderbilt – Deadwood (Amazon Prime, HBO, DirecTV)
One of the shining stars of HBO's Deadwood is Kim Dickens, a communications major at Vanderbilt University whose television career skyrocketed thanks to her role as saloon hostess Joanie Stubbs. You might also know her from House of Cards or Friday Night Lights.
Image Courtesy of IMDB