---
November 21, 2019
It Just Means More THANKSGIVING
By: SEC Staff
SECU (Twitter: @TheSECU)
Thanksgiving is one week away, and hopefully you're planning to share it with family and friends. If your celebration includes staying on campus or playing host to out-of-town guests, we've cooked up a list of special, local eateries to consider including on your holiday menu!
The most important meal of the day may be one of the tastiest plates you'll find in Tuscaloosa. You might have to wait a spell on the old wooden church pews, but once you step inside and sit down at an old-fashioned dining room table, you'll know you're in the right place. The Historic Waysider Restaurant serves up breakfast and lunch six days a week, and we heard legendary head football coach Bear Bryant loved the country ham.
Image courtesy of Alabama Living
Sometimes you have to look underground to discover one of the most happening food joints in town, and that's exactly what you'll find in a basement near the Historic Fayetteville Square. Hugo's has been feeding Razorbacks and Razorbacks fans burgers, sandwiches and grilled meats for more than 40 years. And if you're still hungry after the meal, the grasshopper crepes (filled with mint chocolate chip ice cream) are pure decadence.
Image courtesy of FACEBOOK | Hugo's
When your business has been around for more than a century, you're probably doing something right — like Toomer's Drugs. Since 1896, Toomer's Drugs (nestled into what is now Toomer's Corner) has been offering delicious lunches and merchandise for visitors from all over the globe. But their world-famous, fresh-squeezed lemonade is a must-try if you're on the Plains. And if you look across the street and see a pair of beautiful oak trees covered in toilet paper, don't worry — that's a good thing.
Image courtesy of Toomer's Drugs
The delightful Camellia Court Café near the Harn Museum's Asian Water Garden at Florida serves up seasonal sandwiches, soups, tapas and desserts for visitors anytime of the year. So, if you're in the mood for some natural splendor, and you don't want to skip lunch, this is your meal ticket for some lighter, non-traditional Thanksgiving fare.
Image courtesy of Harn Museum of Art
When a restaurant calls itself "Southern Fun Dining," it really sets the table for a memorable meal. At Mama's Boy, a delightful breakfast spread features unique twists on Southern staples like Georgia Peach French Toast, Salmon Cakes Benedict, and the aptly named Chocolate Cake for Breakfast. But the lunch menu is just as good, and it features a Pimento Cheese Burger, probably made from the UGA-sourced beef they use.
Just outside of Lexington proper and through the picturesque horse country is a cozy old Southern eatery that's become world-renowned for their time-honored recipes featured on the Food Network. The locals know you can plan your week around Wallace Station's nightly specials: fried chicken on Monday, shrimp and grits on Thursday, pot roast on Saturday — you name it. Make sure you leave room for a cookie for dessert!
Image courtesy of FACEBOOK | Wallace Station Deli and Bakery
When you put "world famous" on your menu, you'd better be able to back it up, and TJ's does exactly that. Their mouth-watering ribs are marinated for a full 24 hours, slow-cooked in a special oven then finished on the grill. And of course, they're topped with both a secret seasoning and a signature sauce. And if ribs aren't your favorite, they've got a plethora of smoked meats to satisfy, including brisket, pulled pork and turkey.
Image courtesy of FACEBOOK | TJ Ribs
 As the James Beard Award winner for Best Southern Chef 2009, John Currence has created quite a "dine-asty," and City Grocery is his flagship centerpiece. The restaurant features world-class fine dining downstairs and a more casual atmosphere upstairs, but no matter which floor you choose, you're in for Southern cooking the way it was meant to be. From catfish to quail, you can't go wrong with seasonal menus that strong.
Image courtesy of FACEBOOK | City Grocery
In Mississippi, you have to try the catfish. Or the barbeque. Or the Gulf shrimp and oysters. It can be hard to decide, but thankfully, you can't go wrong at The Little Dooey, where the chefs have been cooking family recipes since 1985 in what used to be a service station. And if you want to have that The Little Dooey taste all the time, just take home some rubs and sauces.
Image courtesy of FACEBOOK | The Little Dooey
Just like the bard has been regarded as the most famous writer in the English language for centuries, Shakespeare's Pizza has been considered the most popular pizzeria in Columbia for what seems like forever. And with three locations, they're always close. Their signature pie, The Masterpiece, has been featured on ABC News and Good Morning America, and the large tips the scale at five pounds — ideal for a big group of family or friends to share this time of year.
Image Courtesy of FACEBOOK | Shakespeare's Pizza
Aptly named since the locals sometimes shorten "Columbia" to "Cola," the Soda City Market (inspired by traditional European street markets) is an important weekend ritual for many Gamecocks and Gamecocks fans. Every Saturday morning people gather for a few hours to shop for fresh produce, one-of-a-kind gifts and local art pieces from more than 150 vendors, all while enjoying entertainment from neighborhood street performers. After a few days of football and feasts, it's an excellent way to get in those steps and Apple rings.
Image Courtesy of FACEBOOK | Soda City
A Knoxville staple, Gus's Good Times Deli is a time-honored burger and sandwich shop with a lively atmosphere, making it a preferred spot for many in Volunteer country — including some pretty famous guests like Peyton Manning and Garth Brooks. Best of all, it's open until 4am, so you can get your favorite item on their classic menu just about any time.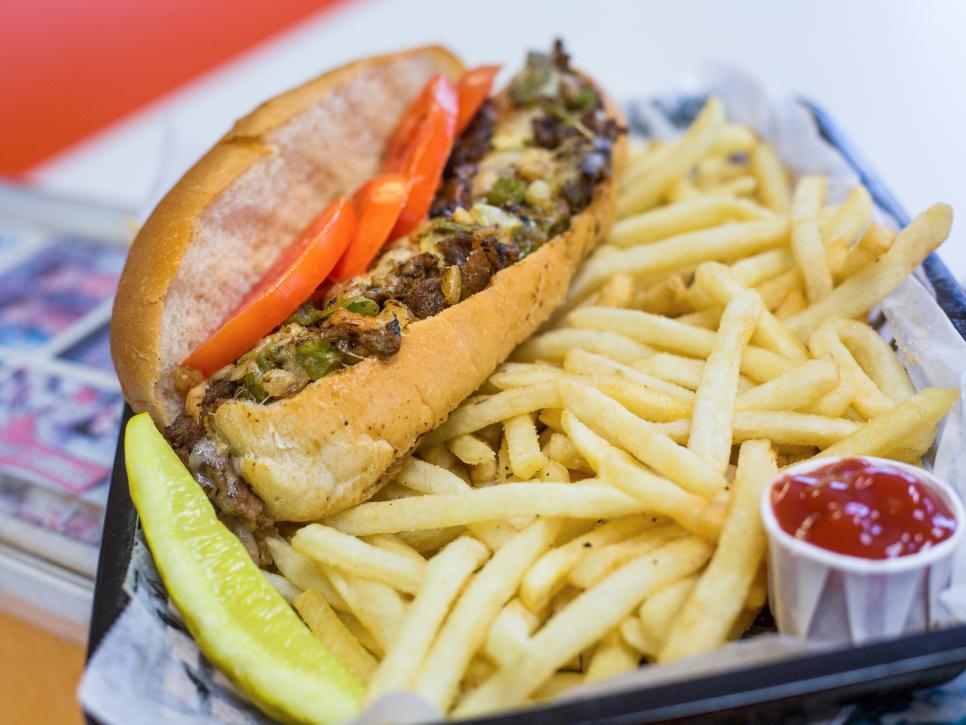 Image Courtesy of Food Network
How celebrated is Dixie Chicken as an Aggie institution? Their website has a section full of stories from patrons throughout the decades, and you can add yours to the list! They even feature a monthly Texas 42 tournament if you want to try your hand at dominoes. But all of that is backdrop for the food itself — burgers, sandwiches and tacos, all tasty and reasonably priced.
Image Courtesy of FACEBOOK | Dixie Chicken
 Located conveniently near campus, this eatery provides a bite to back up its bark. They've got a menu full of locally sourced fare (including all-day breakfast) and rotating daily specials. It's said you have to try the Local Burger before you can call yourself a local. And if you need a pick-me-up, they're also a coffee shop!
Image Courtesy of FACEBOOK | Fido Nashville
For many, this time of year is mostly about food, family, football and friends in this part of the world, and if you're on campus for Thanksgiving, you won't go wrong with a stop into one of these local favorites.