---
October 20, 2020
SEC Universities Renew Commitment to Voter Education and Participation
By: SEC Staff
SECU (Twitter: @TheSECU)
General Election years routinely shine a light on civic engagement, and 2020 is no different. There are calls from every corner for Americans to get educated and get involved in the democratic process. This call is nothing new for SEC universities, who have for years implored students to be counted. With two weeks remaining before Election Day and early voting in full swing, we wanted to take this moment to highlight the renewed commitment around this Conference. SEC universities are creating spaces for open dialogue, helping students register to vote and opening their doors to the community as polling locations. Keep reading to learn about how the Southeastern Conference is supporting all facets of voter participation.
University of Alabama
The University of Alabama has been recognized for its role in registering college-aged voters. In fact, the UA chapter of Vote Everywhere was recently named chapter of the year. Since 2015, Vote Everywhere has worked to increase voter turnout by registering students, and this year, UA's chapter has focused on closing the gap between students who are registered to vote and students who actually vote.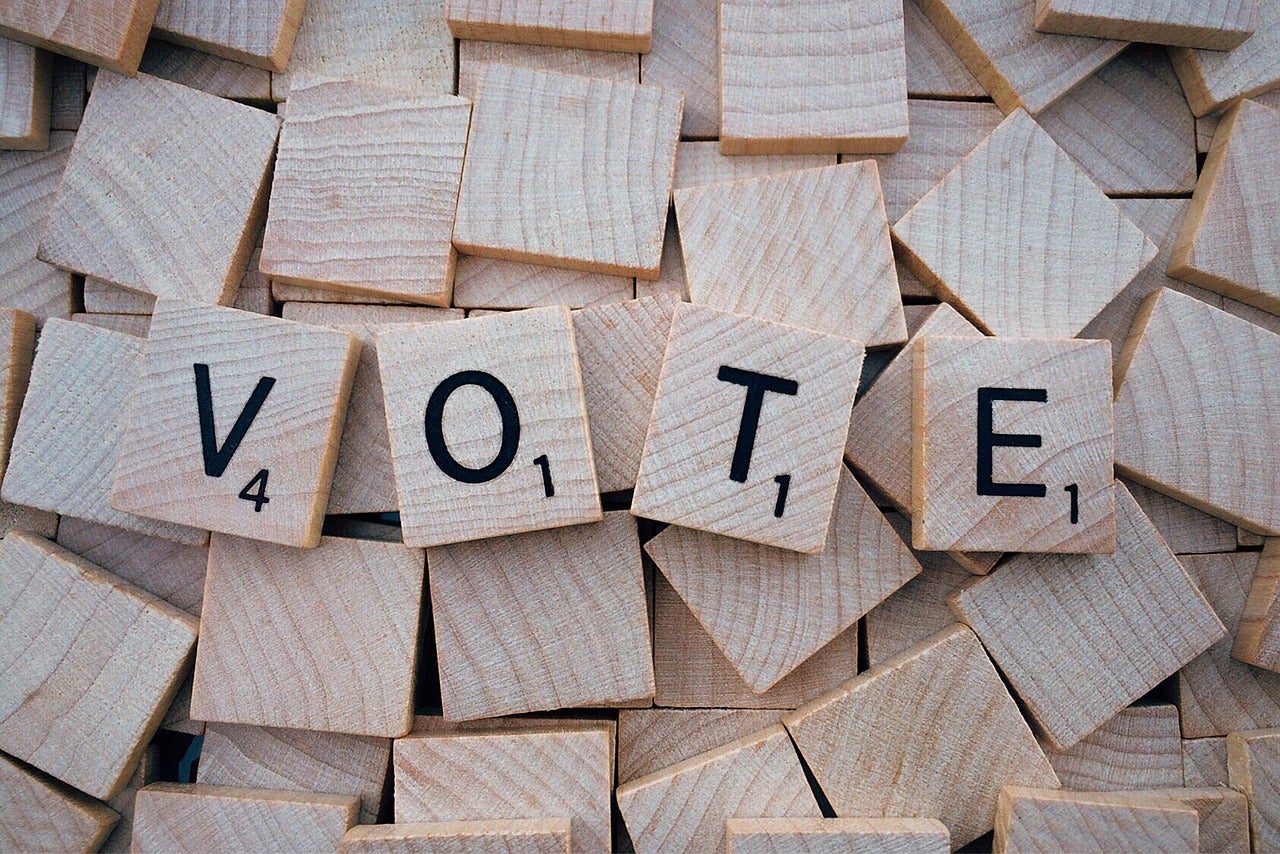 Image Courtesy of the University of Alabama
University of Arkansas
From October 22-24 the University of Arkansas' Bud Walton Arena will serve as a polling location for early voters in Washington County. The opportunity for Fayetteville-area voters comes after the university Student Government Association's longstanding push for an on-campus polling center.
Image Courtesy of the Fayetteville Flyer (Pre-COVID-19)
Auburn University
In the Auburn University Election Administration Initiative, faculty and student government members are hosting webinars designed to simplify the voting process for participants. Six political science professors, alongside the Student Government Association executive vice president of outreach, are answering questions live and talking about the upcoming election.
Image Courtesy of Auburn University
University of Florida
The University of Florida is showcasing its own faculty expertise while answering important voting and election questions. One installment of the President's Social Sciences Speaker Series was a discussion with Dr. Michael McDonald. The conversation with UF President Kent Fuchs focused on Dr. McDonald's Election Project data on voter turnout. [Editor's Note: To learn more about Dr. McDonald, read the October edition of the SEC's Fourteen on the 14th.]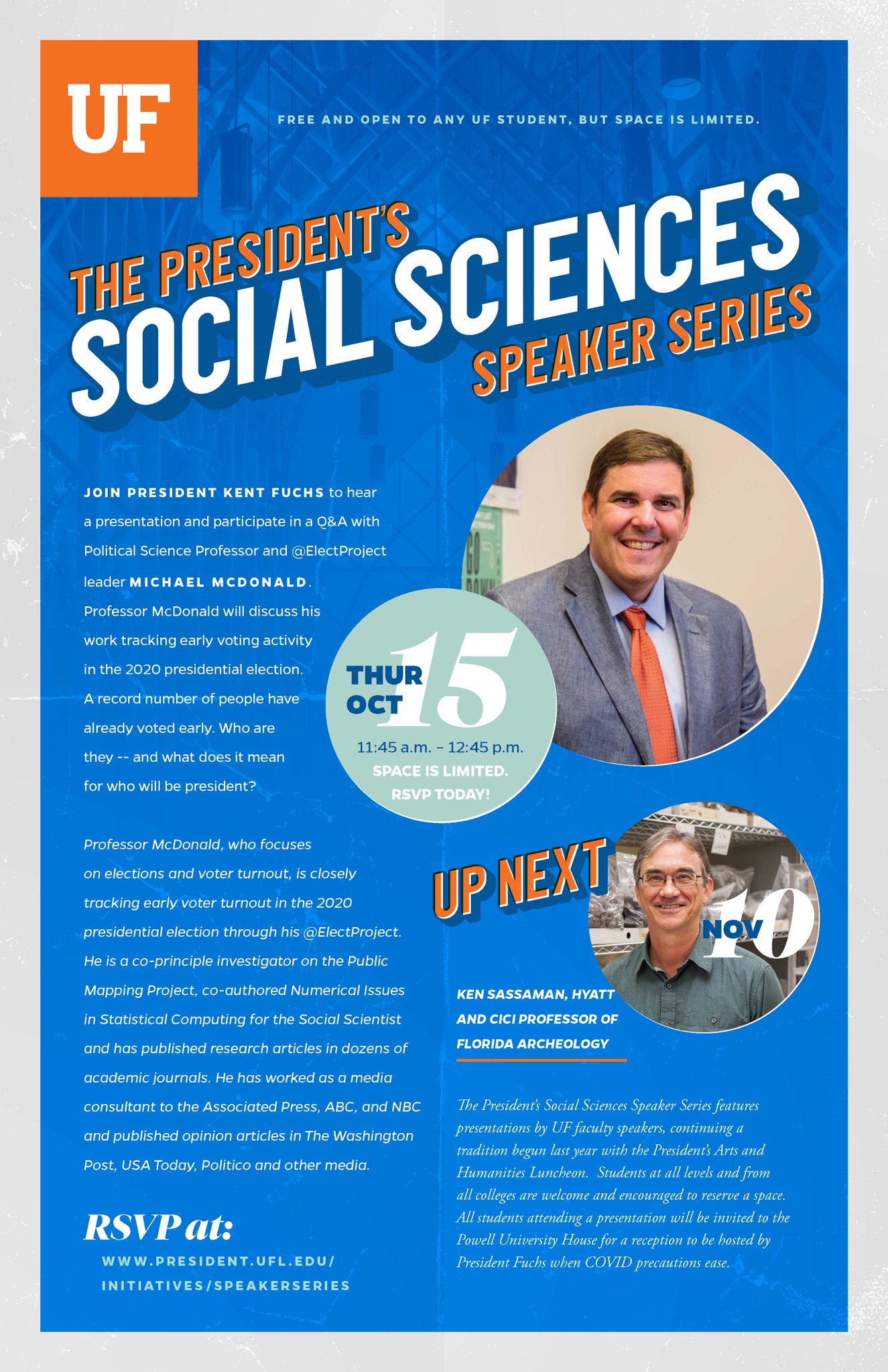 Image Courtesy of the University of Florida
University of Georgia
The Georgia Way, the UGA Athletics Association's student-athlete leadership and development program, launched a 10-week voter education series called #DawgsToThePolls. The series provides registration details and includes student-athlete videos urging all University of Georgia students to take the democratic process seriously. In addition, UGA's Stegeman Coliseum will be a polling site for early voting.
Image Courtesy of the University of Georgia
University of Kentucky
University of Kentucky political science students are helping their peers understand the voting process through social media. They are highlighting the special needs of out-of-state students – including guidance on how to complete a mail-in ballot.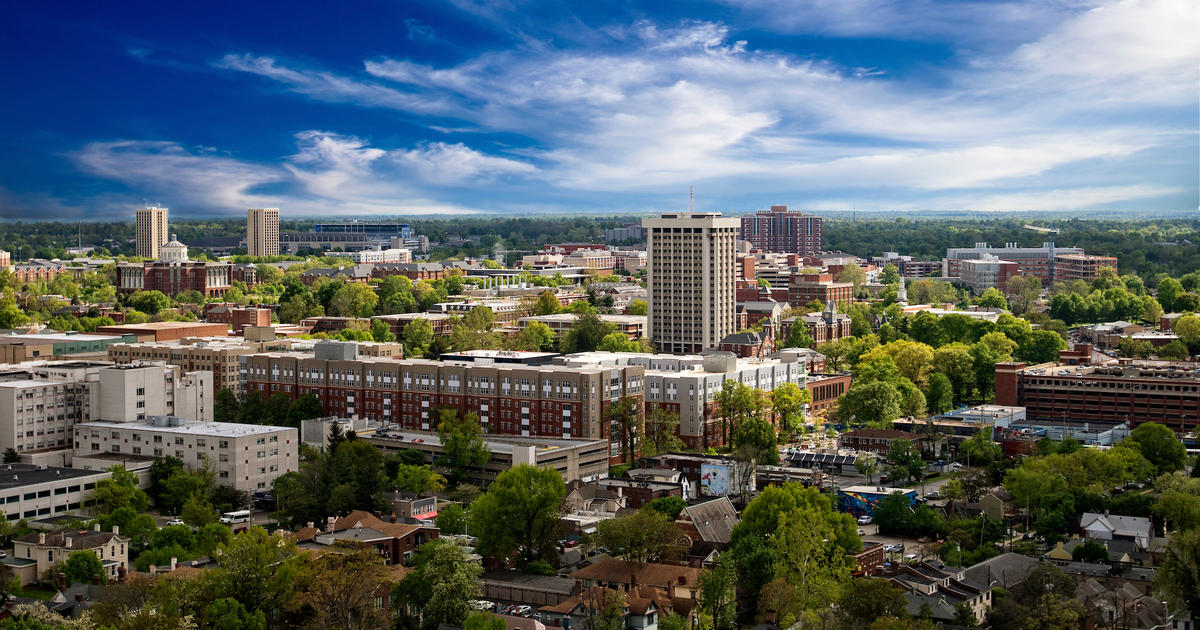 Image Courtesy of the University of Kentucky
Louisiana State University
Longtime Louisiana State University student organization Geaux Vote is seeking out unregistered LSU students to engage in the democratic process. Named the No. 5 student voting organization in the nation by TurboVote, Geaux Vote registered 1,800 students last year and is continuing those efforts during this election season.
Image Courtesy of the LSU Reveille (Pre-COVID-19)
University of Mississippi
The University of Mississippi used its Gilder-Jordan lecture to discuss the history of voter suppression and how it impacts elections. The annual lecture is sponsored by the Center for the Study of Southern Culture, the African American Studies Program, Center for Civil War Research and the Department of History. This year's speaker was prominent historian and author, Carol Anderson, who participated in a virtual roundtable with attendees.
Image Courtesy of the University of Mississippi
Mississippi State University
Mississippi State University has been designated a Voter Friendly Campus by the Student Affairs Administration in Higher Education and the Fair Election Center's Campus Vote Project. The designation stems from a campus plan for engaging student voters and multiple channels of voter engagement. In addition to voter registration drives and providing Election Day transportation, Mississippi State also partnered with other Mississippi public universities to organize the #MyVoteMatters initiative.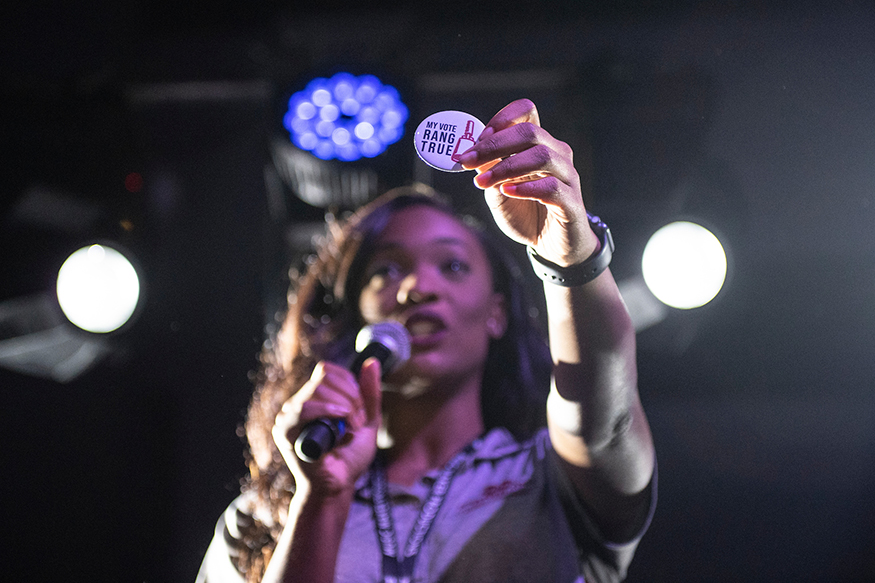 Image Courtesy of Mississippi State University
University of Missouri
The University of Missouri's Black Student-Athlete Association (BSAA), which was established this past August, hosted a voter registration drive for student-athletes in the Mizzou Athletics Training Complex to help register and educate student-athletes. The ten-day drive allowed BSAA members to leverage their platforms to teach, learn and provide tangible resources ahead of Election Day.
Image Courtesy of the University of Missouri
University of South Carolina
The University of South Carolina is using this election cycle to examine the history of voting rights in the United States. To commemorate 100 years of suffrage, the university is curating a series of stories on the history of the women's movement in South Carolina and the fight for voting equality. The first story acknowledges South Carolina suffragettes and their journey to the South Carolina Constitutional Convention in 1895.
Image Courtesy of the University of South Carolina
University of Tennessee
The University of Tennessee's Office of Multicultural Student Life and Department of Athletics recently co-hosted a panel discussion on voter registration, online voting resources and absentee voting for students, faculty and staff. Moderated by the Student Government Association president, the panel featured participants from the university libraries and League of Women Voters.
Image Courtesy of the University of Tennessee
Texas A&M University
Texas A&M University athletics is taking civic engagement to another level with its support for Volunteer Deputy Registrars. Leaders have provided information to student-athletes and staff who want to be hands-on in the election process by helping Travis County residents register to vote.
Image Courtesy of Texas A&M University
Vanderbilt University
The Vanderbilt University human resources office has partnered with Vanderbilt, Let's Vote to update the university's personal time off policies related to civic engagement. Vanderbilt's policy is being expanded in 2020 to include early voting. Now Vanderbilt employees will be able to take paid time off to vote during the workday at any point during the early voting period or on Election Day.