---
September 23, 2020
Sunny and 75 Degrees: Your Guide to Outdoor Studying in the SEC
By: SEC Staff
SECU (Twitter: @TheSECU)
From historic quads, to renovated amphitheaters – there's plenty of room to roam around the greenspaces in the SEC. Whether you're taking most of your classes online this semester and feeling like you're rarely outside of your room (or you've always preferred to hear the rustling of tree leaves and birds chirping to the silence of a library), check out these options waiting right outside your door. After you pick your favorite spot, bring a mask, your laptop, and your books because it's time to study (or join a class) outside.
University of Alabama – The Quad
Sitting on more than 20 acres, the Quad at the University of Alabama is perfect for studying, soaking up the sun, and breathing in the fresh air. The next time you're outside on the Capstone, set up a picnic blanket near the iconic Denny Chimes or take up a studious perch on the steps of the Quad's Amelia Gayle Gorgas Library, and you'll be ready to ace your classes in no time.
Image Courtesy of University of Alabama
University of Arkansas – Chi Omega Greek Theatre
A gift from the Chi Omega Sorority in 1930, this lovely outdoor theater at the University of Arkansas is one of the prettiest places on campus, which makes it a great spot to tune out distractions and be productive. It's even on the National Register of Historic Places!
Image Courtesy of University of Arkansas
Auburn University – Samford Lawn
Samford Hall is more than an architectural institution — it's home to one of the best study spaces on Auburn University's campus, not to mention the President's office. When you need a change of scenery, bring a snack and let the changing fall leaves be your backdrop on the archetypal Samford Lawn.
Image Courtesy of Auburn University
University of Florida – Ben Hill Griffin Stadium
Want to study somewhere you can feel the motivation in the air? Visit the Swamp! Since the University of Florida's football stadium is open to visitors, you can stretch out in the bleachers and imagine thousands of Gator fans cheering you on to your next "A."
University of Georgia – Founders Memorial Garden
Looking for scenery that's a little more idyllic? The University of Georgia Founders Memorial Garden might be your study spot. Built to commemorate the founders of the American garden club movement, The Garden sits on nearly three acres and is home to a few ponds and more than 300 plant varieties, including historic trees to sit under during these early fall months.
University of Kentucky – Campus Canopies
Want to get a physically distanced group together for a study session? The University of Kentucky's innovative Campus Canopies might be an option. While they aren't a location per se, these canopies can be reserved, and they're sanitized for each use. Make a reservation, round up some friends, and get to studying – safely!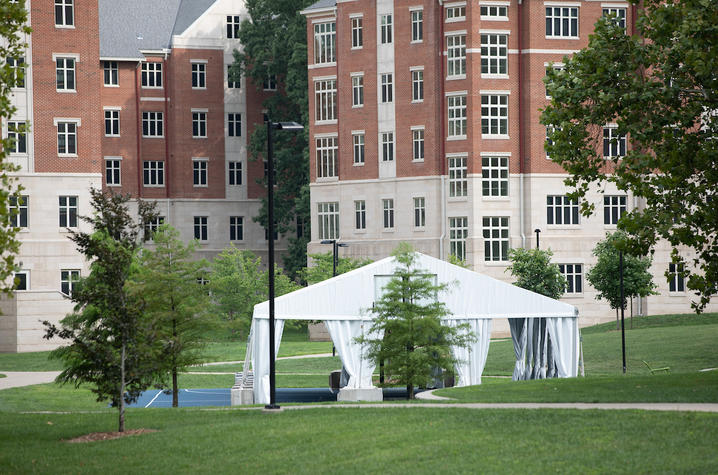 Image Courtesy of University of Kentucky
LSU – Parade Ground
Typically the site of large and small scale events, Louisiana State University's Parade Ground is one of the best places to spread out and hit the books. With ample green space and within walking distance to the Student Union, the Parade Ground is great for an afternoon of studying or the occasional outdoor lunch. Grab a laptop, pack your textbooks, and get to work!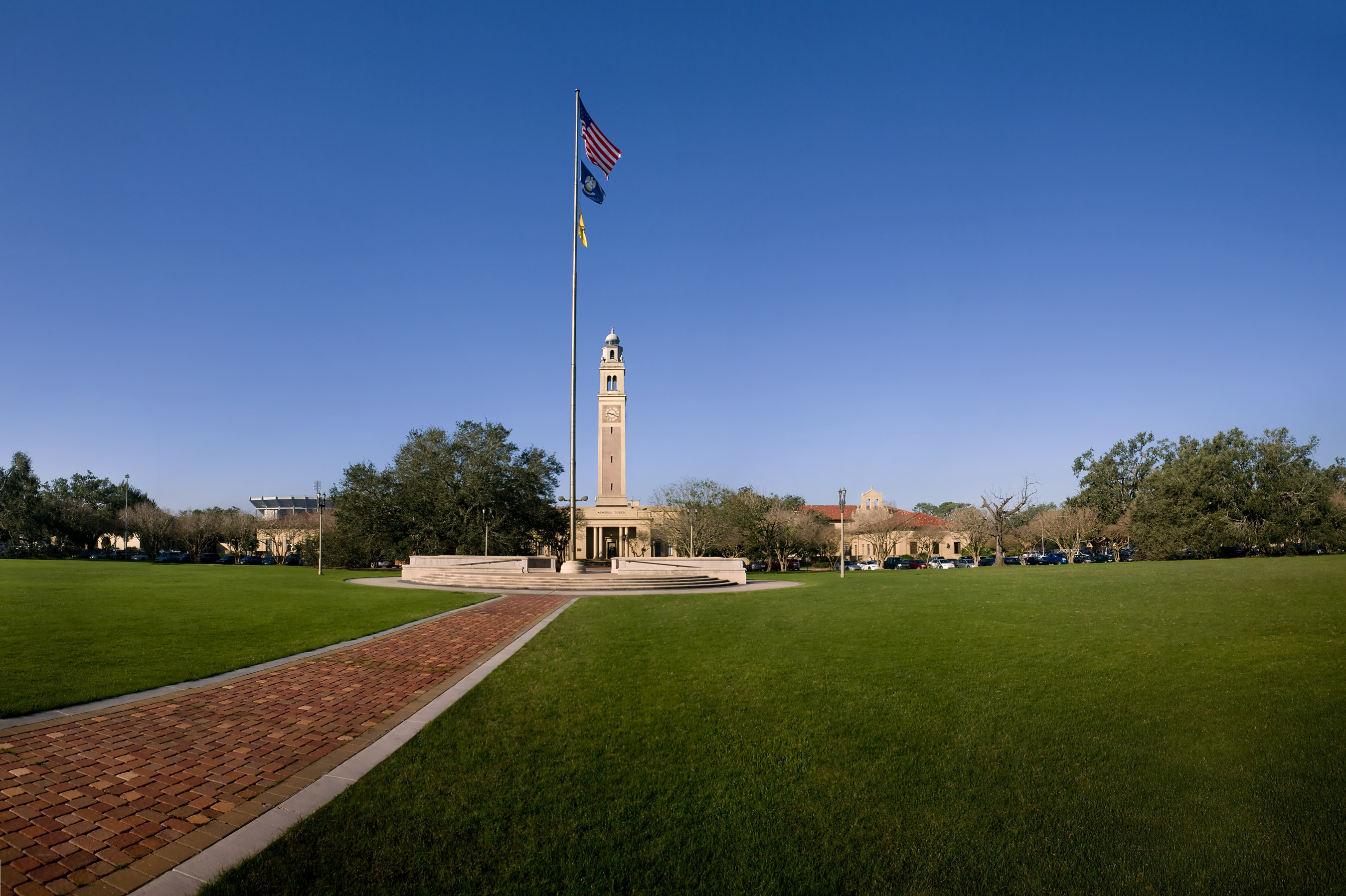 Image Courtesy of Visit Baton Rouge
Ole Miss – The Grove
You're probably used to seeing The Grove on Top Ten lists for its tailgating atmosphere, but with 10 acres of space, it also delivers plenty of room to study at the University of Mississippi. Start your studying with a good luck stroll through the Walk of Champions arch, then sit under your favorite oak, elm, or magnolia tree to prepare for your next test.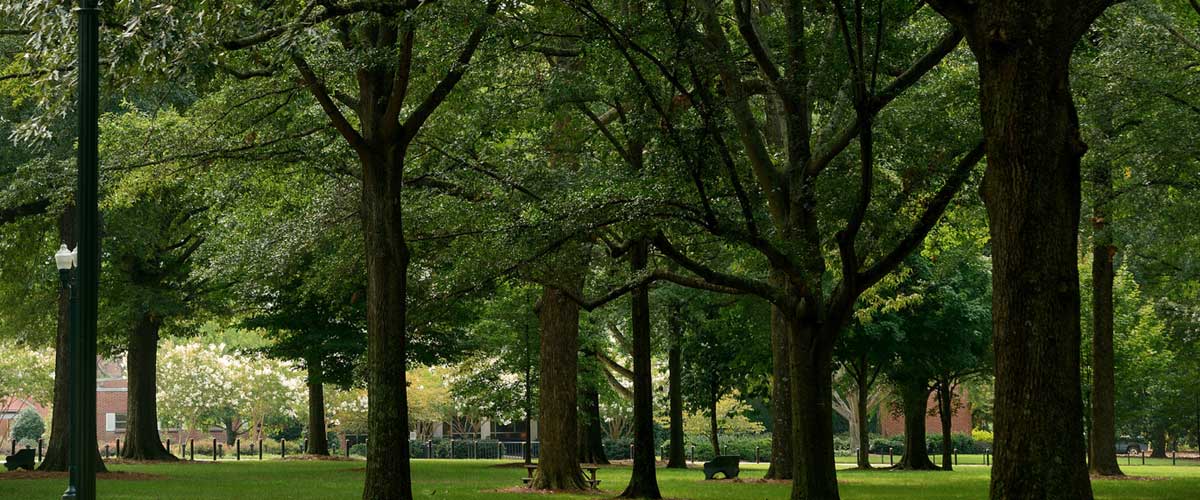 Image Courtesy of University of Mississippi
Mississippi State – Drill Field
This greenspace may have earned its name from the ROTC cadet marching drills it once hosted, but don't worry, no one is going to ask you to drop and give them 20 if they see you on the grass. Located just steps away from some of Mississippi State University's major academic buildings, Drill Field is a convenient place for you to take a quick study break or attend a full class session with ease!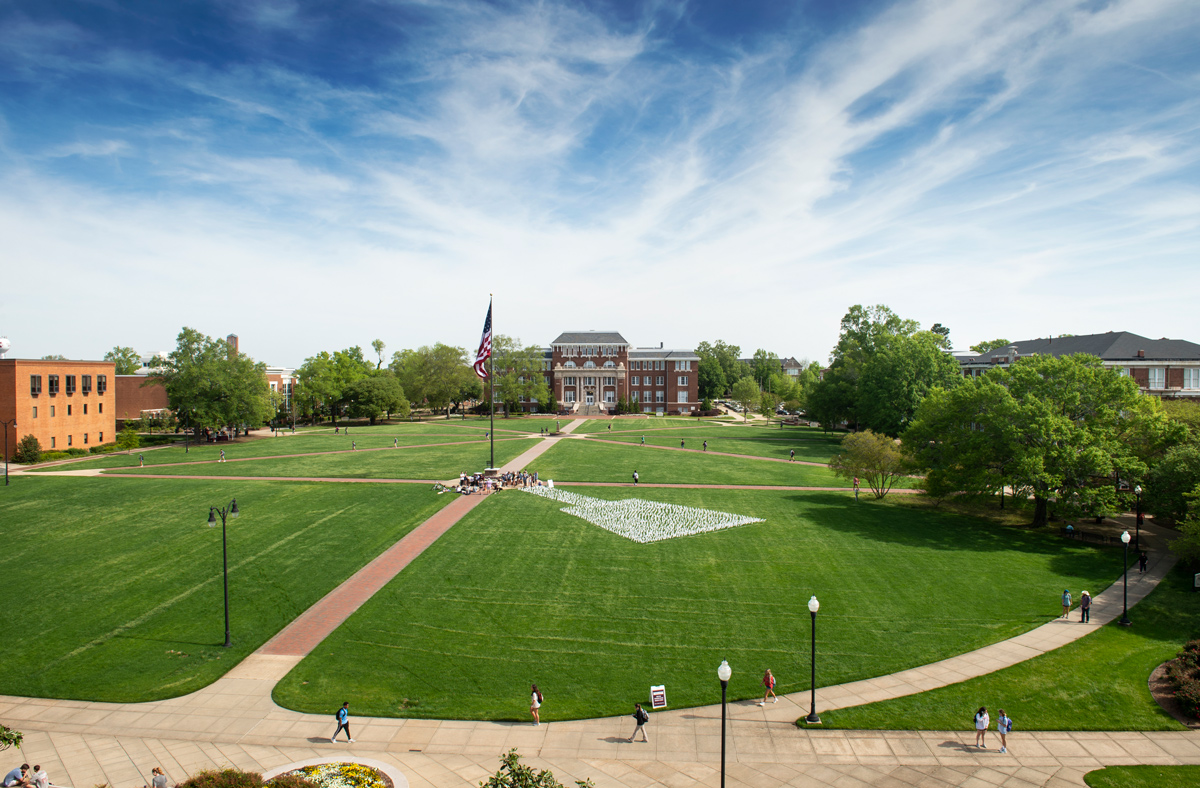 Image Courtesy of Mississippi State University
Mizzou – The Columns on Francis Quad
Is there anything more quintessentially Mizzou than the Columns? We don't think so. Did you know the Columns are all that remain of the University of Missouri's original Academic Hall built in 1843, and Francis Quad has cemented its place on the National Register of Historic Places? In this physically distanced world, consider making them your next study backdrop.
Image Courtesy of University of Missouri
South Carolina – The Horseshoe
The center of the University of South Carolina's original campus, the Horseshoe is a picture-perfect place to study outside. Filled with massive trees and original buildings dating to 1805, the sprawling grounds are the place to reflect on the university's evolution and add your own story to the pages of its history.
Image Courtesy of University of South Carolina
University of Tennessee – Humanities Amphitheatre
When the weather's beautiful at the University of Tennessee, there's nothing quite like it. Many a sunny afternoon can be spent on the steps of the Humanities Amphitheatre, a popular location for campus events, studying, or hanging out – at least six feed apart – with friends and roommates. When it turns cool on the steps, take a throw, charge your laptop, and let nature be your muse.
Image Courtesy of University of Tennessee
Texas A&M – The Zachry "E-Quad" 
Texas A&M University's Engineering Quad looks and feels like a futuristic place to finish up your homework. The E-Quad boasts modern art, food trucks, and for the brave among us – 50 equations etched into the pavement selected by students, faculty, and staff. For the less brave among us, there's also a Starbucks. What more do you need?
Vanderbilt University – E. Bronson Ingram College
Most students know Vanderbilt University's Ingram College for its all-you-can-eat dining hall, which is certainly a plus for long study sessions. But just outside of the Ingram doors, you'll find ample room to lounge on the grass and get some distant studying done with your classmates. It's a textbook spot to refuel and then get right back to work before exams.