---
November 5, 2021
A Complete Guide to Your SEC College Town (Pre) Thanksgiving Meal
By: SEC Staff
SECU (Twitter: @TheSECU)
We're a few weeks away from Thanksgiving, and that means we have food on the brain! So, before you leave campus for the holiday, here are a few of our local suggestions – a pre-Thanksgiving meal of sorts. And whether you prefer breakfast, lunch or dinner, we've got you covered. Just be sure to check the restaurant hours and current COVID-19 policies before you go. Cheers!
University of Alabama – Rama Jama's
Let's start this list off with breakfast! Rama Jama's is a favorite for students and families looking for the quintessential diner experience. In the shadow of Bryant-Denny Stadium, Rama Jama's is packed with Alabama memorabilia and feels like an ode to the Crimson Tide. Once settled into a booth or on the patio, the toughest decision you'll have to make is country ham or bacon. If you want to avoid the debate altogether, just opt for lunch.
Image Courtesy of Never Too Old to Travel
University of Arkansas – Doe's Eat Place
Directly from SEC Professor of the Year Marlon Blackwell, Doe's Eat Place is dubbed the "place where the best steaks in the world are served." Around since 1941, it has become a symbol of tradition and hospitality. Known for thick cut steaks, Doe's delivers more than enough to share with a friend – or take home for seconds (and maybe thirds). Not a steak person? The hot tamales and shrimp and grits are a must, but don't take it from just Professor Blackwell – some of their celebrity visitors include Matthew McConaughey and Guy Fierri!
Image Courtesy of Doe's Eat Place
Auburn University – Acre
Want a modern take on Southern Cuisine? Look no further than Acre for fresh meals made with local ingredients right outside of Toomer's Corner. Head Chef David Bancroft has been recognized by the James Beard Foundation for four consecutive years, and Acre is a TripAdvisor Traveler's Choice. With cozy (yet distanced) indoor seating options and a farmhouse patio, Acre strikes a balance between casual and upscale. Stop by for anything from a charcuterie board to the pecan smoked brisket!
University of Florida – Institute of Food and Agricultural Sciences Meat Retail Store
The University of Florida's Meat Retail Store – run through UF's Institute of Food and Agricultural Sciences, is a good option for anyone looking to cook one more meal on campus or wanting to get in a little extra practice before helping prepare Thanksgiving dinner. With nearly 40 different cuts, the IFAS retail store is the perfect place to shop – on Friday's only – for quality steak or pork without breaking the bank.
University of Georgia – Mama's Boy
When a restaurant calls itself "Southern Fun Dining," it really sets the table for a memorable meal. At Mama's Boy, a delightful breakfast spread features unique twists on Southern staples like Georgia Peach French Toast, Salmon Cakes Benedict, and the aptly named Chocolate Cake for Breakfast. But the lunch menu is just as good, and it features a Pimento Cheese Burger, probably made from the UGA-sourced beef they use.
University of Kentucky – Grimes's Fast Food Restaurant

When you're in Kentucky, you have to do fried chicken. The best of the best, according to Fourteen on the 14th alumna Margaret Tung, is Grimes's! For 30 years, Grimes's has been sharing its family recipe with the Lexington community. Now with a second location, you can enjoy their renowned menu with less of a wait. In addition to fried chicken, Grimes's also has fish and lots of side options you can buy in family sizes to share with a friend or colleague.
Image Courtesy of Lexington Herald Leader
Louisiana State University – TJ's Ribs
When you put "world famous" on your menu, you'd better be able to back it up, and TJ's does exactly that. Their mouth-watering ribs are marinated for a full 24 hours, slow cooked in a special oven, and then finished on the grill. And of course, they're topped with both a secret seasoning and a signature sauce. And if ribs aren't your favorite, they've got a plethora of smoked meats to satisfy, including brisket, pulled pork and turkey.
University of Mississippi – City Grocery
As the James Beard Award winner for Best Southern Chef 2009, John Currence has created quite a "dine-asty," and City Grocery is his flagship centerpiece. The restaurant features world-class fine dining downstairs and a more casual atmosphere upstairs, but no matter which floor you choose, you're in for Southern cooking the way it was meant to be. From catfish to quail, you can't go wrong with seasonal menus that strong.
Image Courtesy of Visit Oxford MS
Mississippi State University – Nine-twentynine Coffee Bar
Nestled in the center of downtown Starkville, Nine-Twentynine is more than your run of the mill coffee spot. With a warm, friendly atmosphere and a trusted relationship with Counter Culture Coffee for quality beans harvested sustainably, Nine-twentynine is brewing up one of the best experiences in Starkville. Not to be outdone by the brews, the in-house pastry chef creates new baked goods daily!
Image Courtesy of Nine-twentynine
University of Missouri – Booches
Another recommendation from a Fourteen on the 14th alum Kamrhan Farwell, Missourians go to Booches for billiards, but stay for the burger. Established in 1884, Booches has been in its current location since 1928, solidifying its place in Columbia's history. Booches is one of the oldest continually operating businesses in Boone County, and its flat-top burgers are legendary!
University of South Carolina – Soda City Market
Aptly named since the locals sometimes shorten "Columbia" to "Cola," the Soda City Market (inspired by traditional European street markets) is a weekend ritual for Gamecocks. On Saturday mornings people shop outside for fresh produce, one-of-a-kind gifts and local art pieces from more than 150 vendors, while enjoying entertainment from neighborhood street performers. After all the indoor studying and teaching, it's an excellent way to get in those steps and close those Apple rings.
Image Courtesy of Soda City Market
University of Tennessee – Gus' Good Time Deli
A Knoxville staple, Gus's Good Times Deli is a time-honored burger and sandwich shop with a lively atmosphere, making it a preferred spot for many in Volunteer country — including some pretty famous guests like Peyton Manning and Garth Brooks. Best of all, they are serving food until 4am, so you can get your favorite item on their classic menu just about any time.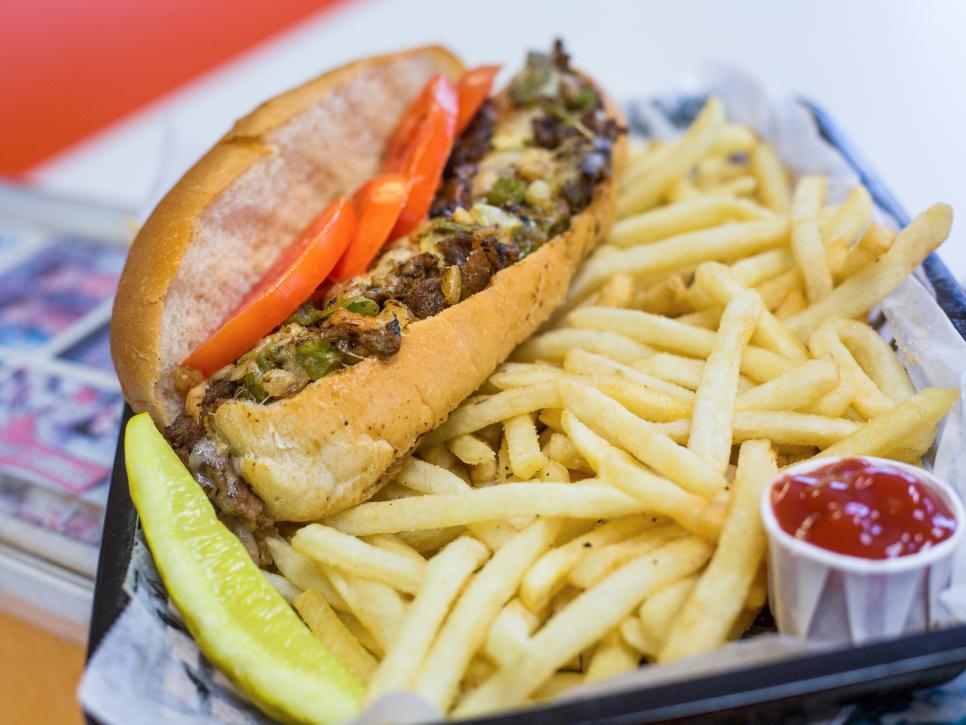 Image Courtesy of Food Network
Texas A&M University – Dixie Chicken
How celebrated is Dixie Chicken as an Aggie institution? Its website has a section full of stories from patrons throughout the decades, and you can add yours to the list! But, that is backdrop for the food itself — burgers, sandwiches and tacos, all tasty and reasonably priced. Dixie Chicken spent the COVID-19 pandemic feeding hospital staff and first responders, and now that they're open for you too!
Vanderbilt University – Five Daughters Bakery
We'd be remiss if we didn't finish this list off with dessert, and Five Daughters in 12 South in Nashville is a great option, according to SEC Faculty Achievement Award winner – Dr. Tracy Sharpley-Whiting! With dozens of different donut, cookie and pastry options, you can't go wrong. But, if you're really in the giving mood and you're in Tennessee, you can pre-order a Thanksgiving Pie Box with a mix of Huckleberry Cheesecake, Apple Pie, Chocolate Chiffon Pie and Maple Pumpkin Pie donuts for you and your family!
Image Courtesy of Tennessee Tourism
As we wind down this COVID-19 imprinted fall semester, we are reminded that no matter how many guests we host or where the meal is held, this Thanksgiving will still feature food, family and friends. Happy Thanksgiving and safe dining!