---
April 21, 2022
The SEC Goes Green: Celebrating Earth Day in the Southeastern Conference
By: SEC Staff
SECU (Twitter: @TheSECU)
When you think of the Southeastern Conference, you probably picture school colors like Volunteer Orange, Aggie Maroon or Gamecock Garnet. Those are some of the colors that represent the spirit of faculty, staff, students, and fans across the southeast. The color you might not consider … Green! So, this Earth Day, we want to add another color to the SEC mix while celebrating the countless ways our universities are focused on the environment. From sustainability grants and energy partnerships to being named a bee campus, keep reading to learn more about how the SEC is doing its part to protect our only home.
University of Alabama
Image Courtesy of University of Alabama
For the seventh year in a row, the University of Alabama has been named a "Tree Campus USA." A designation from the Arbor Day Foundation, this honor recognizes universities that are promoting the conservation, health, and safety of trees "when a solution to global challenges related to deforestation is much needed," the foundation says.
University of Arkansas
Image Courtesy of Hotsprings, Arkansas
You may have seen the University of Arkansas' Garvan Woodland Gardens featured in magazines across the South. Tucked in the Ouachita Mountains, the university's botanical garden is an incredible location for photos, weddings, or just a peaceful stroll. What you might not know, however, is that the botanical garden serve (alongside the Fay Jones School of Architecture + Design) to educate visitors and highlight the importance of cultural enrichment and historic preservation. 
Auburn University
Considering the switch to an electric vehicle? Auburn University has you covered. Auburn recently partnered with Beam Global to deploy Alabama's first solar-powered electric vehicle charging system. The charging systems will help Auburn reach its goal of carbon neutrality by 2050, and they generate and store electricity for faculty, staff, and students to recharge.
University of Florida
Image Courtesy of University of Florida
The University of Florida's Institute of Food and Agricultural Sciences Nursery and Greenhouse is more than just pretty. A partnership with government agencies like the Florida Fish and Wildlife Conservation Commission, it's also a study in agribusiness and sustainable agriculture, not to mention a resource for small businesses and families in search of best practices for harvesting and keeping a garden – and the planet – safe and healthy.
University of Georgia
Looking for scenery that's a little more idyllic to reflect and celebrate Earth Day? The University of Georgia Founders Memorial Garden might be the place. Built to commemorate the founders of the American garden club movement, The Memorial Garden sits on nearly three acres and is home to a few ponds and more than 300 plant varieties, including historic trees.
University of Kentucky
In the past seven years the University of Kentucky has supported more than 40 projects that promote sustainability and ecological integrity. The Sustainability Challenge Grants, which total more than $1.35 million, have funded electronics recycling programs, composting facilities, and improved bicycle infrastructure, while also helping teach basic sustainability principles.
Louisiana State University
In 2020, LSU received the Association of Physical Plant Administrators Sustainability Innovation Award, designed to promote unique practices in campus environments. To win the honor, the LSU Department of Entomology and the LSU Campus Sustainability office partnered to pilot a compost food waste project with black soldier flies that will help LSU reach its goal of diverting 75 percent of its landfill waste by 2030.
University of Mississippi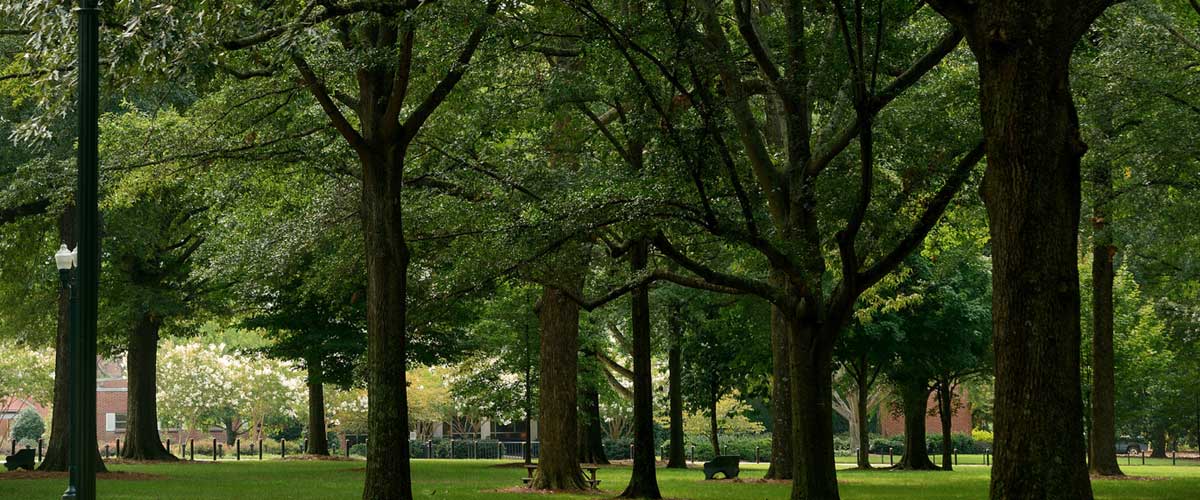 Image Courtesy of University of Mississippi
You're probably used to seeing the Grove on Top Ten lists for its tailgating atmosphere, but with 10 acres of space, it also delivers plenty of room to appreciate the natural beauty of this University of Mississippi icon. Start your Earth Day with a good luck stroll through the Walk of Champions arch and then enjoy Ole Miss' own "Tree Campus Higher Education" designation under your favorite oak, elm, or magnolia.  
Mississippi State University
Mississippi State University has used funding from International Paper – one of the world's leading producers of fiber-based packaging, pulp, and paper – to research timber supply modeling. In addition, MSU is also working on a comparative assessment of wood fiber production. The research findings and advancements will help International Paper and landowners make sustainable decisions to ensure forest preservation. 
University of Missouri
Image Courtesy of University of Missouri
The Association for the Advancement of Sustainability in Higher Education awarded the University of Missouri Gold STARS (Sustainability Tracking, Assessment and Rating System) for its efforts toward campus sustainability. Mizzou currently offers more than 200 undergraduate courses on sustainability, and approximately 71 percent of Mizzou faculty and staff are focused on sustainability research.
University of South Carolina
Image Courtesy of University of South Carolina
The center of the University of South Carolina's original campus, the Horseshoe is a picture-perfect place to kick back and relax on another SEC "Tree Campus USA." Filled with massive trees and original buildings dating to 1805, the sprawling grounds are the place to reflect on the university's evolution and add your own story to the pages of its history.
University of Tennessee
SEC students may be aiming for A's, but the University of Tennessee is looking out for the bees too! The university has been recognized as an official bee campus by Bee Campus USA (an initiative of the Xerces Society, which focuses on the conservation of invertebrates considered to be essential to biological diversity and ecosystem health.). This unique designation is based on eight standards, including having an established bee campus committee and sponsoring service-learning projects to enhance pollinator habitats on and off-campus. The goal of the work … to ensure bee survival and to raise community awareness of food production and pollination.
Texas A&M University
Texas A&M University is leading the way in laboratory sustainability by launching a program to ensure campus labs are practicing environmental stewardship. The Green Labs Certification Program recognizes labs taking steps to implement sustainability practices that remove single-use plastics, conserve water, decrease campus energy use, and increase landfill diversion rates, among other efforts.
Vanderbilt University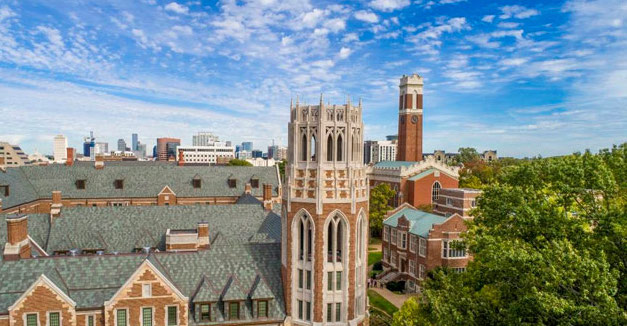 Image Courtesy of Vanderbilt University
Vanderbilt University is partnering with the city of Nashville, the Tennessee Valley Authority, and Nashville Electric Service to expand availability of and access to renewable energy in the city. The collaboration will utilize a solar farm built in Tennessee by a Nashville-based corporation with the goal of powering the Vanderbilt campus entirely through renewable energy and committing to carbon neutrality.